It's a special time of year for those in Qatar celebrating Christmas. There are so many events, that range from making a gingerbread house to tree lighting ceremonies!
The list will be updated throughout the season as events become available, so make sure to check back often to not miss anything.
FESTIVE TREE LIGHTING CEREMONIES
-St Regis Doha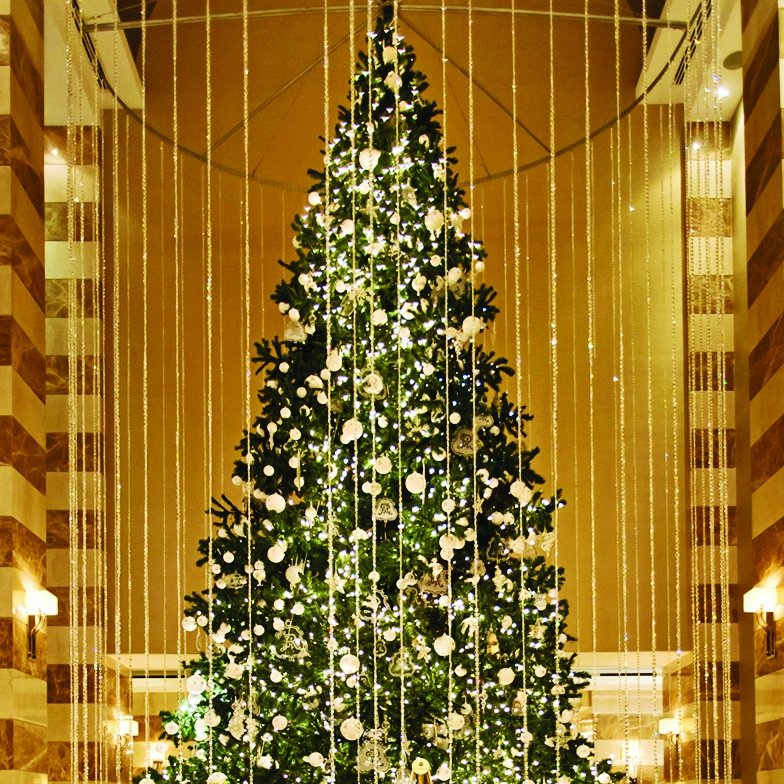 The lobby of St Regis Doha transforms into a festive Winter Wonderland. The centrepiece is an enchanting festive tree adorned with beautiful ornaments and crystal decor. The Festive Choir and Santa Claus will make an appearance.
20th December from 18:00 to 19:30
Free entrance to all.
-Marsa Malaz Kempinski at the Pearl
Enjoy a mesmerizing tree lighting ceremony at the lobby. Hotel guests and local residents are welcome to join and watch their spectacular tree come alight while savoring festive delicacies and warming up with a cup of hot chocolate.
A performance by a talented choir will be adding magic to the ceremony and the little ones can expect an early visit from a special guest from the North Pole. Compliments of the hotel.
Join their annual tree lighting ceremony on Wednesday 19th December at 7pm.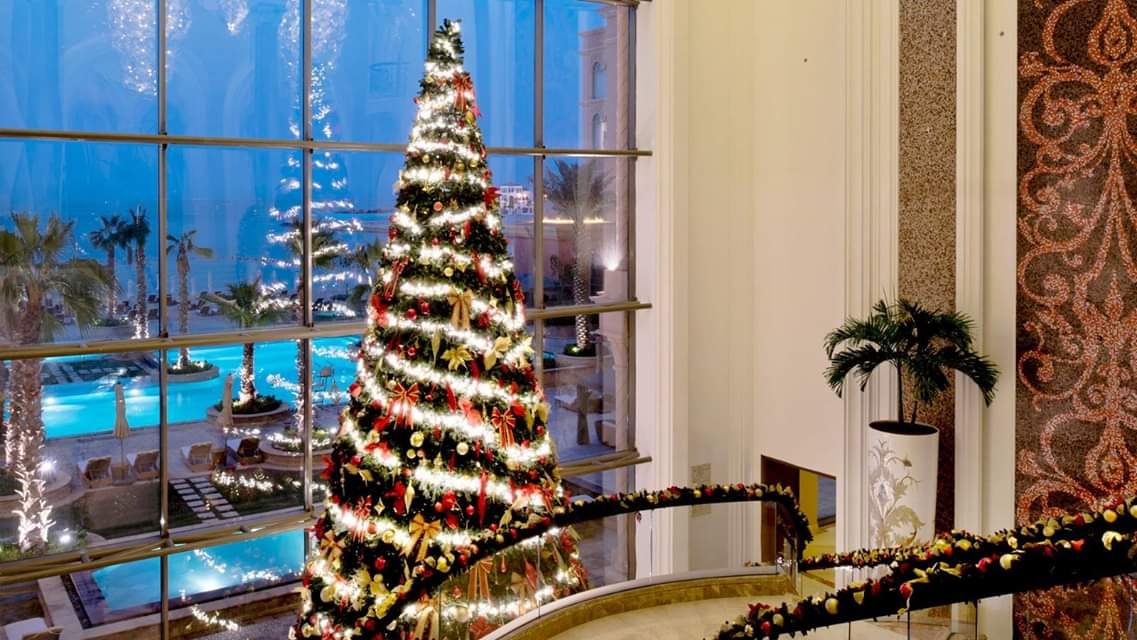 –Doha Marriott Hotel

'Festive Glitz at the Ritz'
The Doha Singers will be performing a seasonal selection of songs at their concert "Glitz at the Ritz" under their Musical Director Steph Gomaa (Director of Music at Doha College). This will take place on Friday 7 December 2018 at the Ritz Carlton Hotel. There will be 2 performances – 4pm and 7.30pm. They will also be joined for part of the performance by singers from Doha College. Please come along to enjoy a variety of seasonal songs both old and new – something for all the family!
Tickets are Qar 120 for adults (age 12 plus) and Qar 80 for children (aged 3-11) while 0-2 years are free.
Tickets are available at FNAC stores in Festival City and Lagoona Mall. For more information, please contact: dohasingers@gmail.com
Santa Claus is coming to the Pearl
On Sunday December 16th from 4- 5:30pm join in on the fun at Porto Arabia- Tower 11. Price per child – 150 riyals.
Each child registered will receive a gift from Santa and can enjoy Christmas Carolling, a Christmas story & craft, Christmas crafts, Cookie decorating and Photography.
To register, email Keione.rayside@gmail.com or Whatsapp – 3326 2023. Registration will close on Sunday December 9th to facilitate buying and wrapping the presents!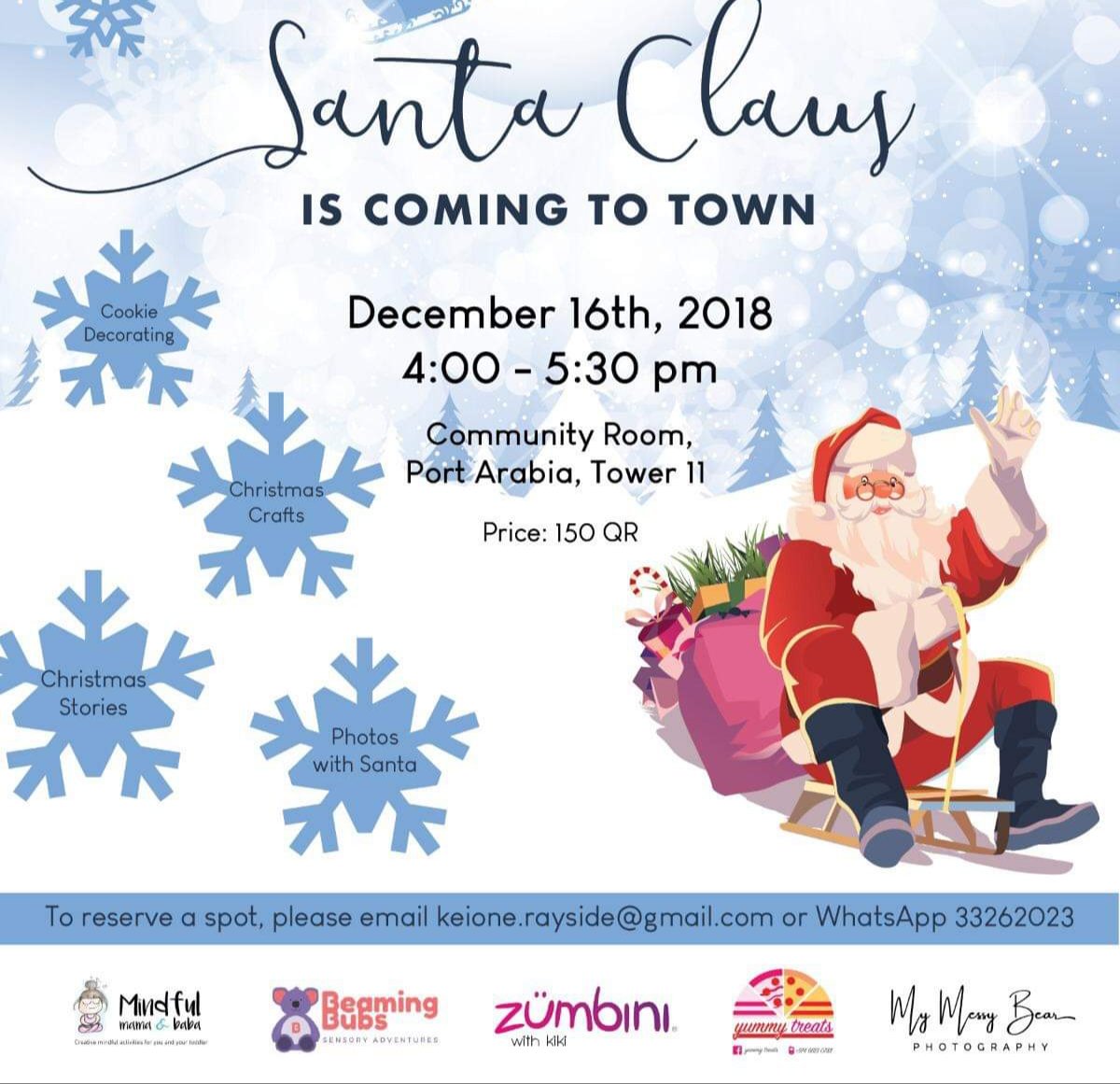 TLG Festive Brunch
The lovely ladies from the expat group TLG will be celebrating at The Radisson with lovely goodies on sale. A collection table will also be available.
Members and friends are welcome at 9am on the 4th of December. For more information kindly contact
tlgindoha@gmail.com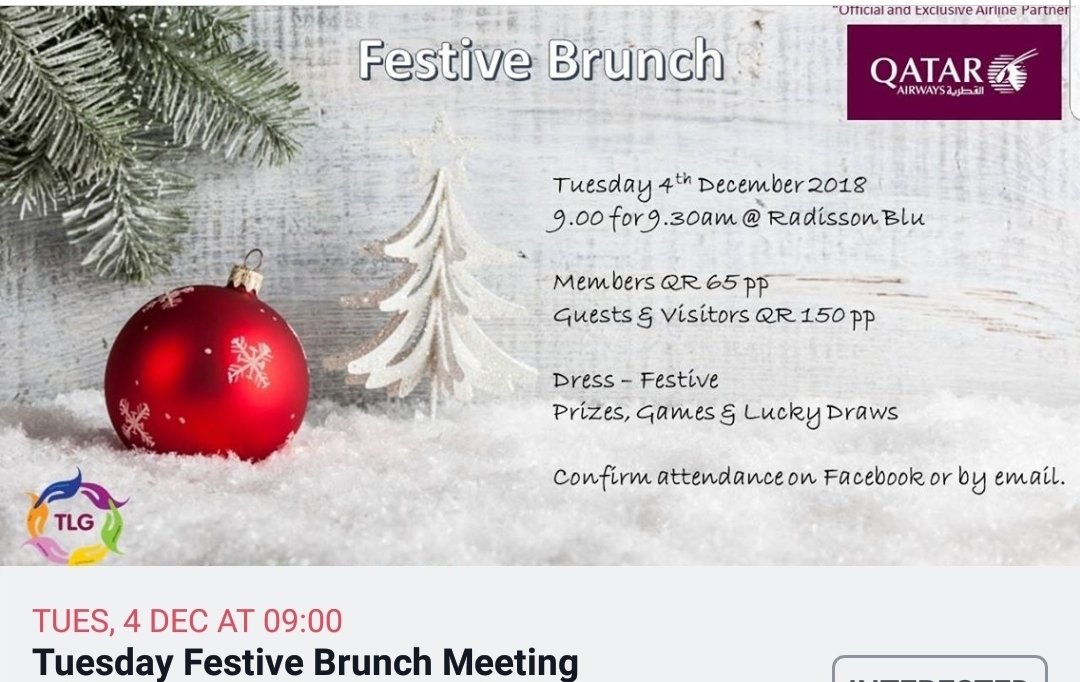 December Fairs
Doha British School Bazaar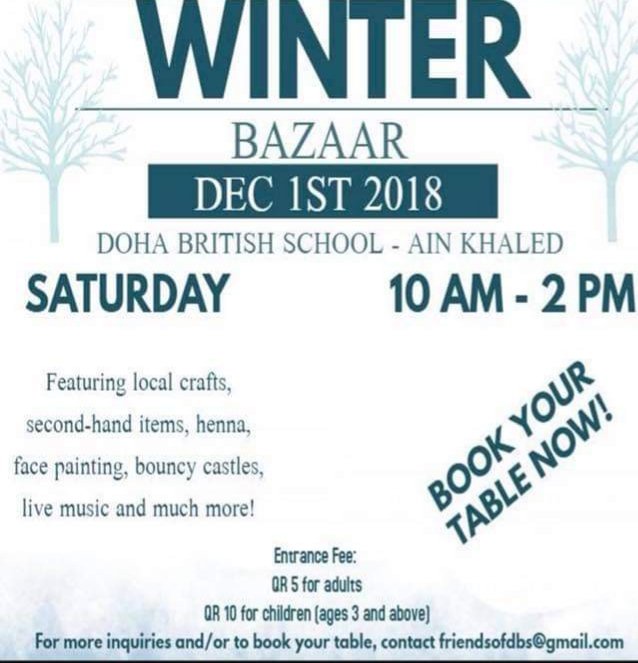 Annual Winter Carnival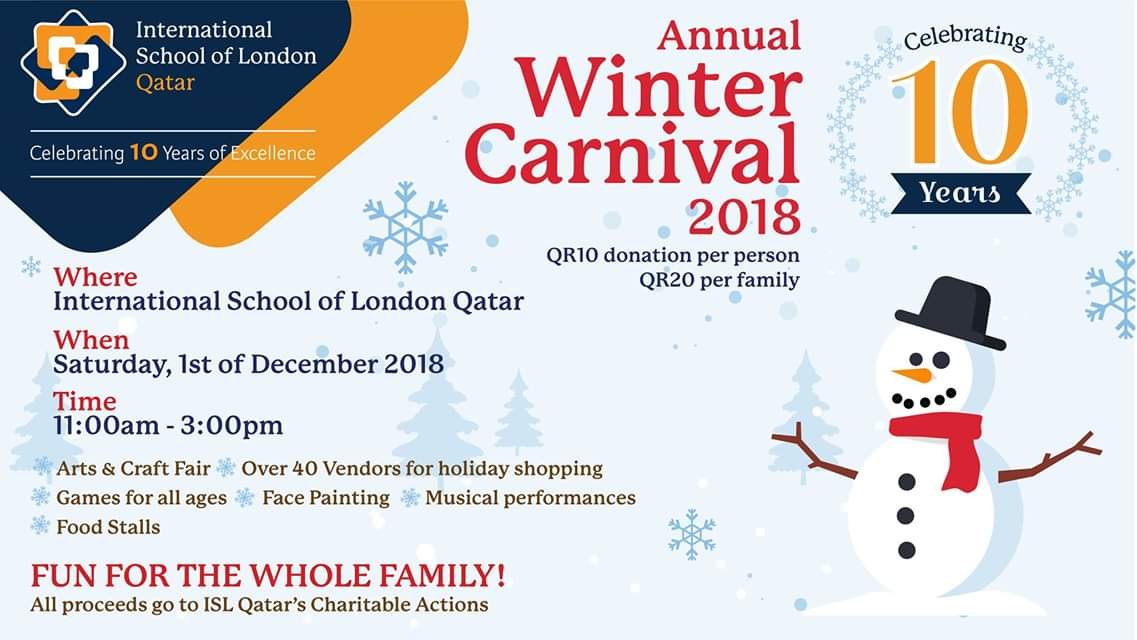 DESS Winter Fair
The Doha English Speaking School has a fun Winter Fair planned.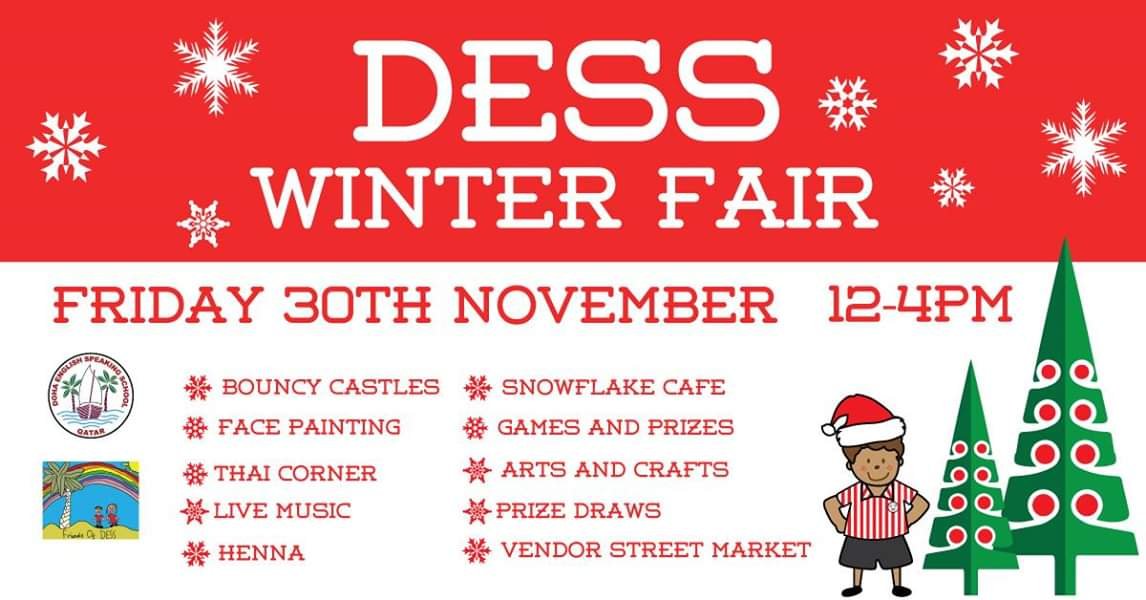 Craft Fair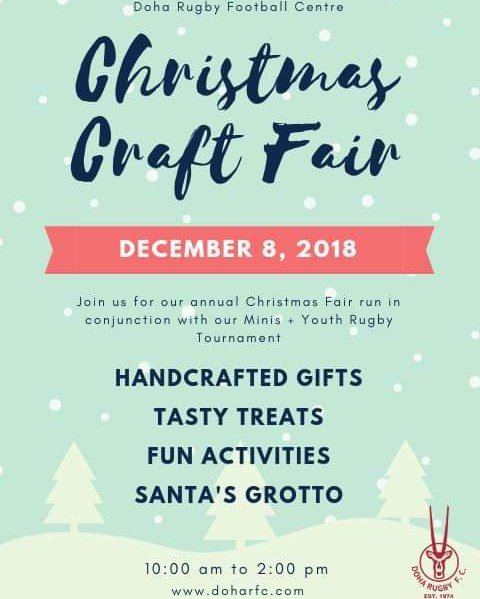 Ginger Bread House Workshops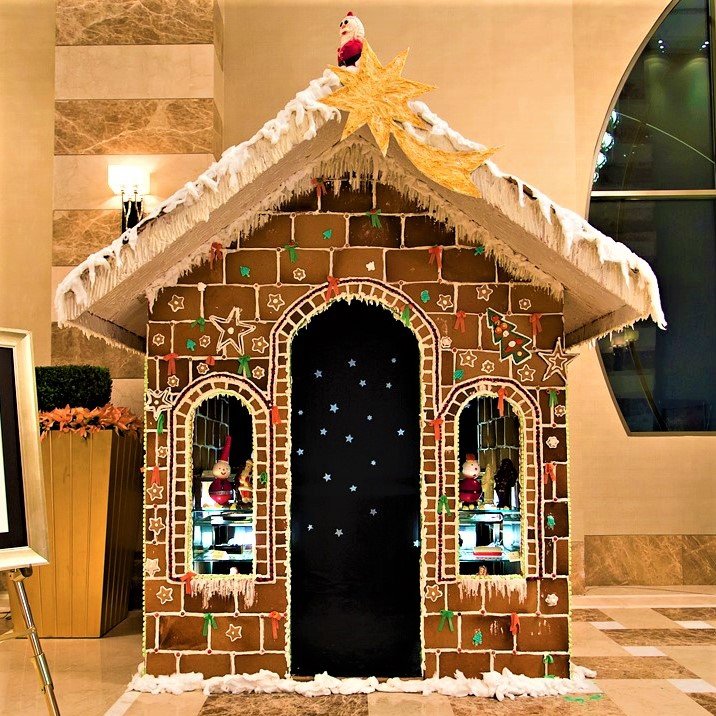 –Sheraton Grand Doha
The little ones will learn the fine art of making gingerbread houses and take in delicious delights from our selection of festive snacks. QR 150 per child. Reserve your child's spot now, call them at 4485 3000.
Learn more about their Festive Season offers: https://bit.ly/2SqobXW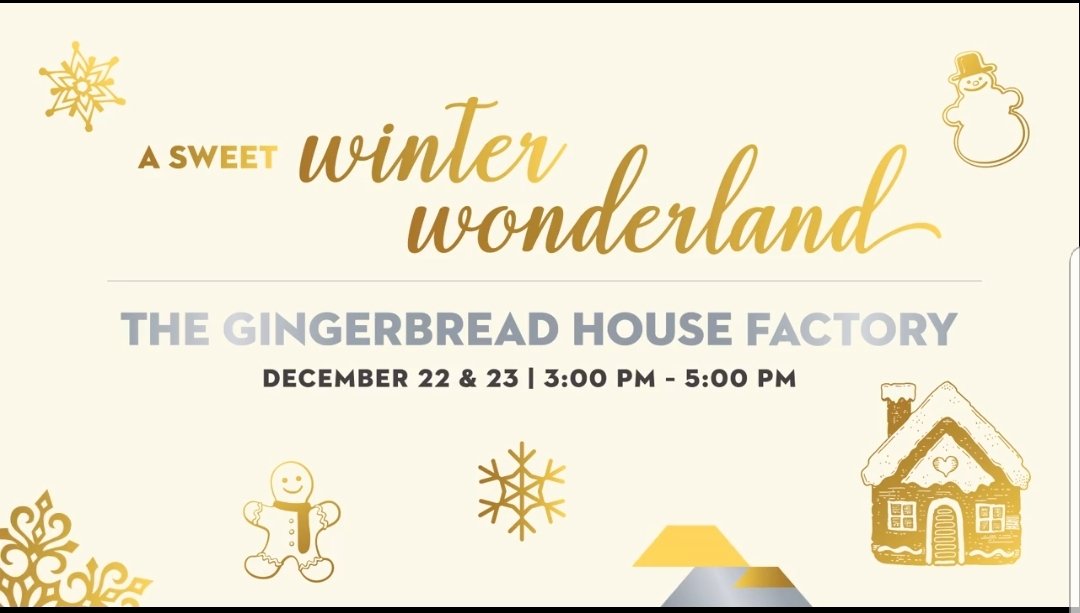 -Marriott Marquis City Center Doha
Join an exciting Cookie Decorating Workshop at Quick Bites and create some memories.
QAR 99 per child Age: 4-12yrs old
1, 8 & 15 December 2018, available Daily from 4pm – 6pm.
Quick Bites. Ground Floor – Marriott Marquis City Center Doha Hotel
Contact details for more information: Call +974 4419 5000 or visit marriottmarquisdohadining.com
-Intercontinental Doha The City
On 22nd December 2018 from 3:00pm – 6:00pm
Gather with your little ones and enjoy a fun festive family activity – Gingerbread House Decorating! Each Gingerbread house comes complete with all the icing and sweet treats you need to create your very own masterpiece. QAR 125 per house
To book Telephone: +974 7021 8803 orEmail: icdohathecity.dining@ihg.com
-City Centre Rotana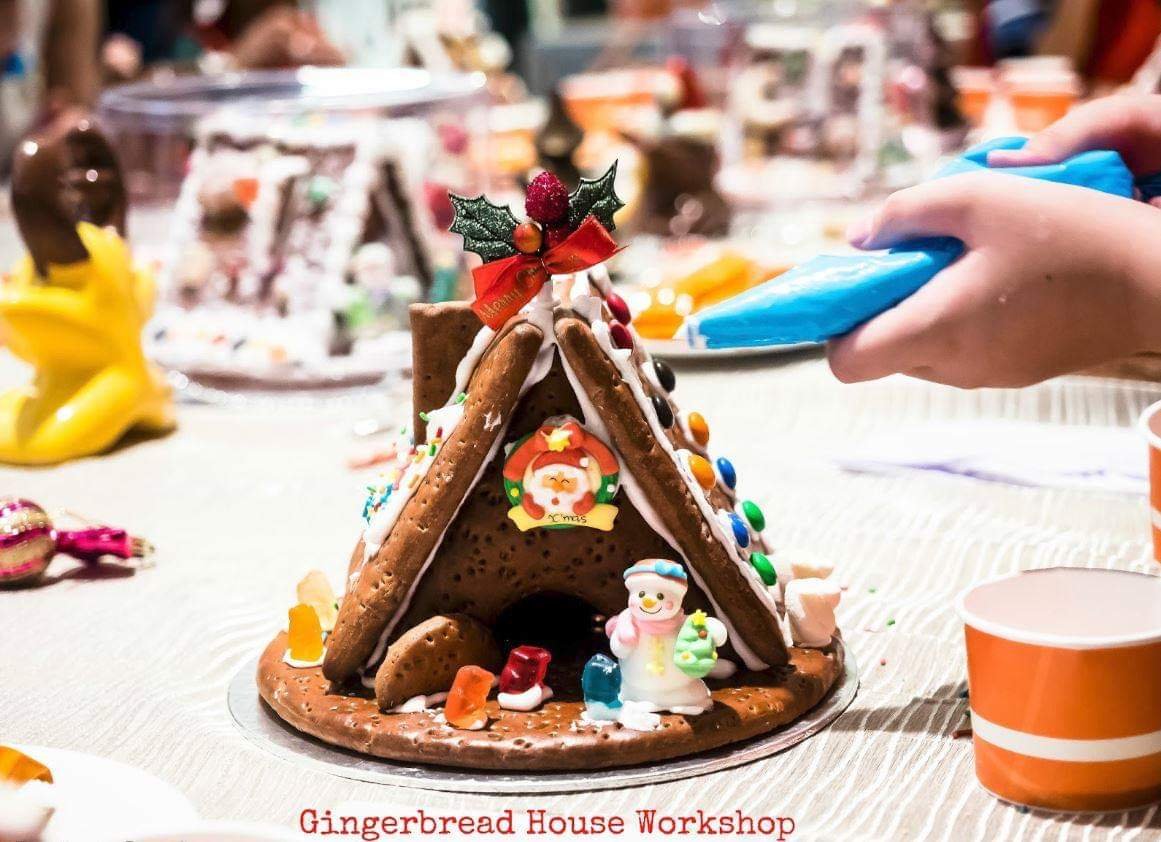 Caramel Lobby Lounge will be hosting a Gingerbread house workshop on Friday 7th and 14th at 10am. Qar 120 per child.
To reserve your spot call them on +974 44458888 or email them on fb.citycentre@rotana.com
-The Ritz Carlton
Bring your festive creativity and inspiration and take part in a yearly tradition as you decorate your own gingerbread house with your loved ones.
December 16 to 23, 2018 from 2:00 pm to 4:00 pm / QAR 200 per house including refreshments.
To book please call, +974 4484 8000 or Whatsapp +974 5557 5356
-Marsa Malaz Kempinksi The Pearl
Share the joy of the festive season and enjoy a mesmerizing afternoon around exciting activities for kids and grownups. At both Palazzo Ballroom or Sawa restaurant enjoy Gingerbread house decorating, cookie baking and a photo session with a surprise visitor from the North Pole.
Sawa Restaurant – 19th, 20th, 22nd & 23rd of December, Palazzo Ballroom – 24th of December, Two Seatings: 1pm – 3pm & 5pm – 7pm, QAR 195 per adult, QAR 95 per child 6-12 years, Complimentary access for kids below 6
To Reserve: +974 4035 5011, +974 7479 0864 (WhatsApp), restaurants.marsamalaz@kempinski.com.
-Sharq Village and Spa
Executive Chef Dwayne Krisko adds magic to the festive season with Gingerbread House Making Classes at Al Jalsa Lobby Lounge (outdoor area) on December 23rd, 2:00 p.m. to 5:00 p.m.
QAR 200 per person inclusive of house-made treats & winter beverages.
To book call +974 4425 6666.
Special Russian performances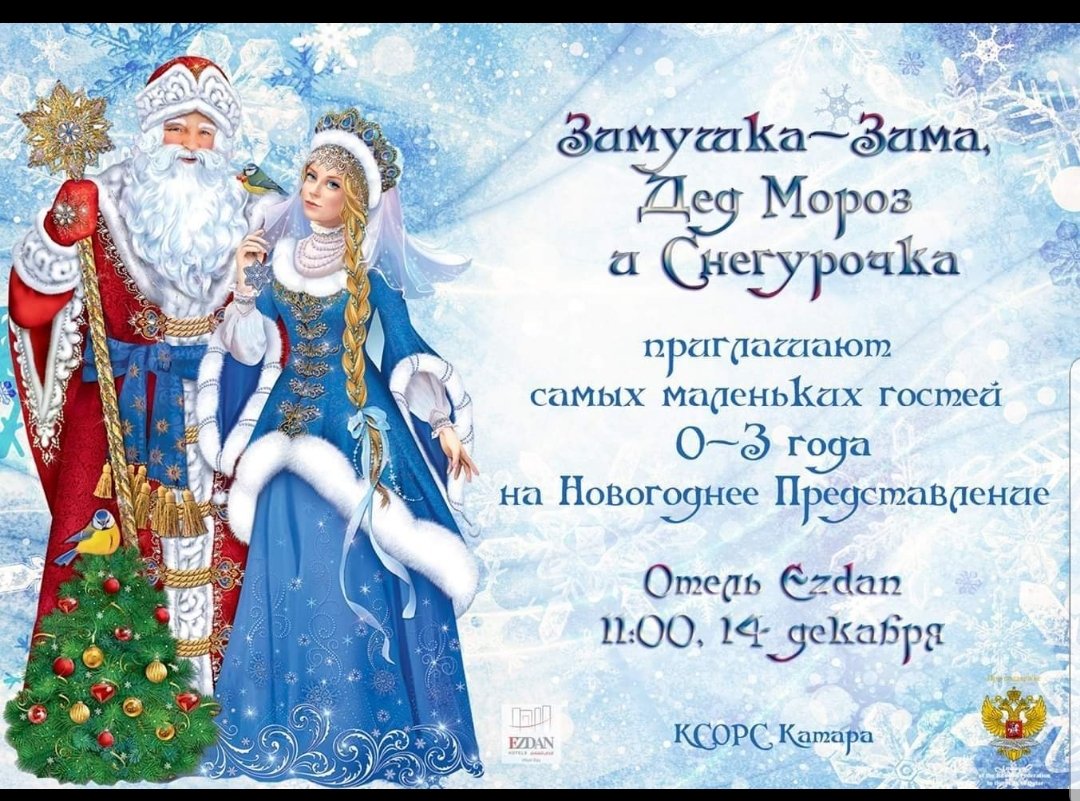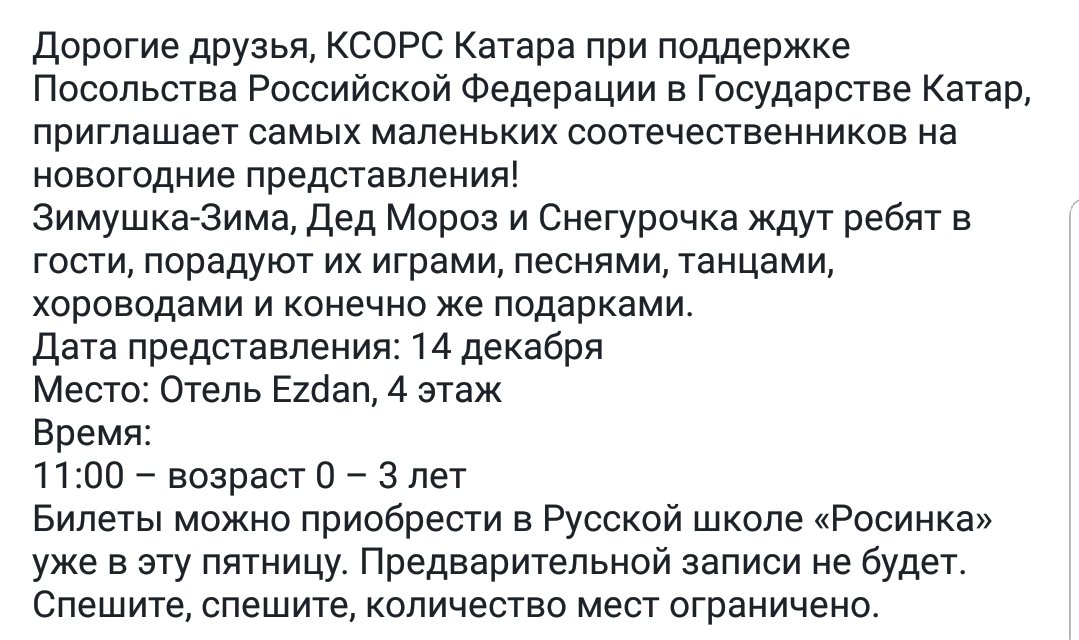 The QSARS with the support of the Embassy of the Russian Federation in Qatar, invites the youngest compatriots to New Year's performances!
The performances "Zimushka-Winter", "Father Frost" and "Snow Maiden" are waiting for the children to visit, there will be games, songs, dances, round dances and of course presents. Date: December 14 Location: Ezdan Hotel, 4th floor Time: 11:00. Age: 0 – 3 years. Tickets can be purchased at the Russian School "Rosinka". Hurry up, the spots are limited.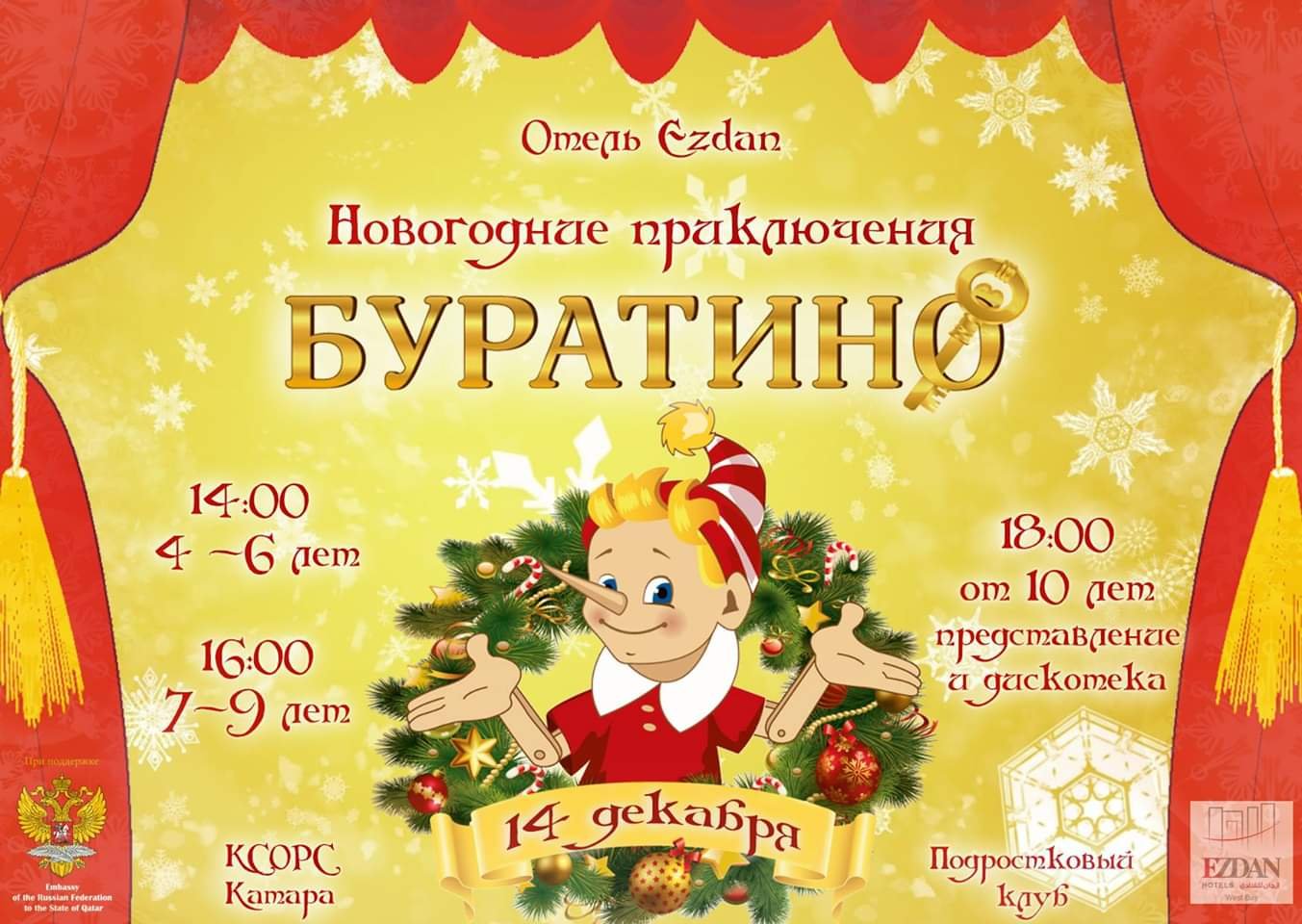 Teenager Club "Perekrestok" together with the QSARS of Qatar, with the support of the Embassy of the Russian Federation in Qatar, invites all young compatriots to the New Year's performances!
This time there will be New Year's adventures with Buratino (Pinocchio) and his friends, a meeting with Santa Claus and a disco-party for children over 10 years old.
Date: December 14
Location: Ezdan Hotel, 4th floor
Time: 14:00 – for age of 4 – 6 years
16:00 – for age of 7 – 9 years
18:00 – for age of 10 and older
Tickets can be purchased at the Russian School "Rosinka".
Sparkling Season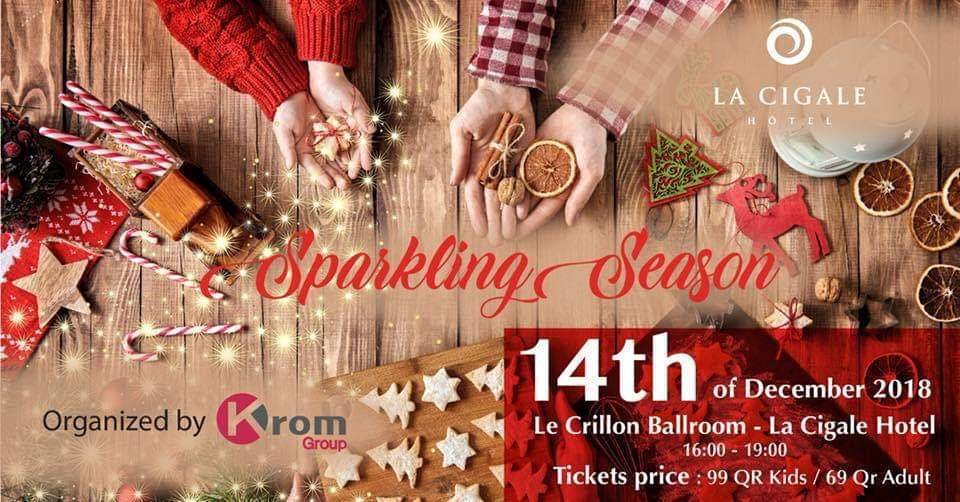 Festive family card Photography
Another way to stay festive this season and create long lasting memories is by bookings a family photo shoot with one of many talented photographers in Doha.
Tracy Kassandra combines her background in digital marketing with her photography, creating captivating portraits.
Cost: She is currently running a holiday special for New In Doha followers, get 10 professionally-edited images for only Qar 350, shot within The Pearl. Thank you Tracy!
Contact: Tracy can be contacted on Instagram @tracykassandra or by email at hi@tracykassandra.com.
Check out her website for her latest professional shots at www.tracykassandra.com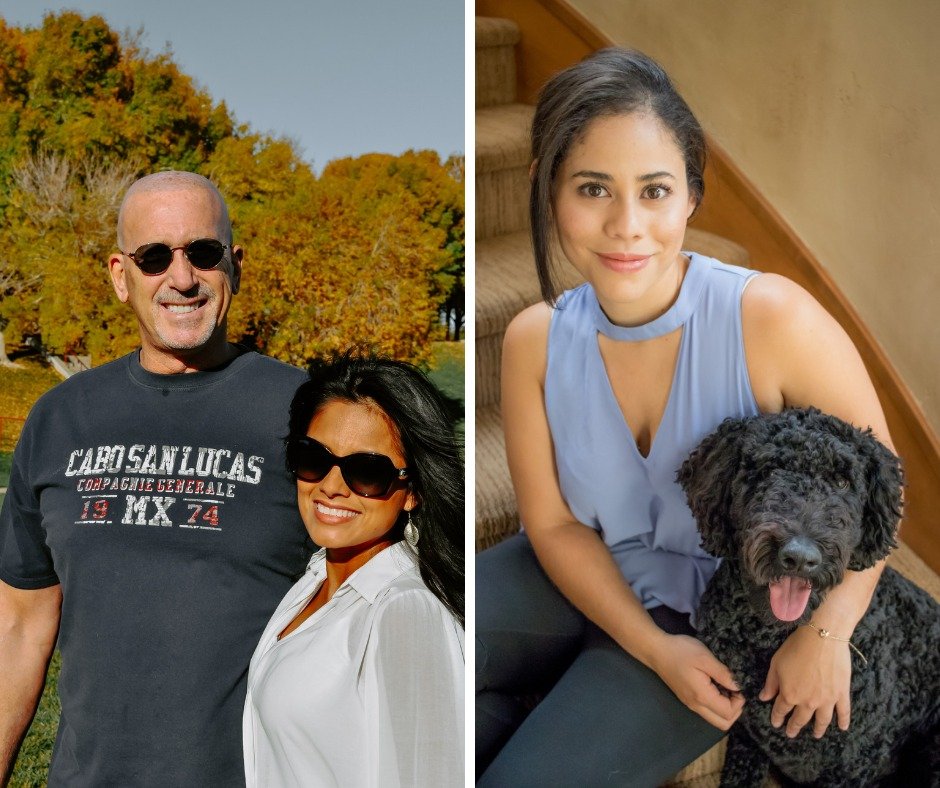 The Pearl activities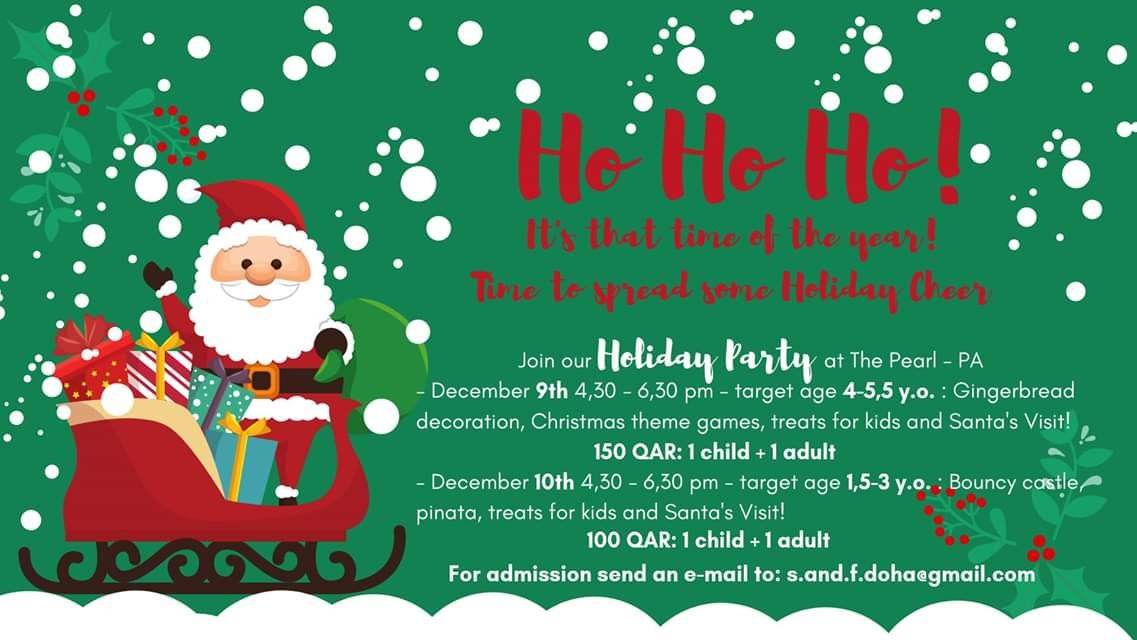 Jo Malone at Villagio event
This article is updated regularly as events and information becomes available.
TAG and SHARE with friends who would love to go!
This is not a sponsored post.
I make every effort to ensure the accuracy of my information. However, I would recommend that you always call ahead and confirm the dates, location, time and other details as they are subject to change.
A special thank you to Mrs Risolat for the translation in this article.