October is Breast Cancer Awareness Month and organisations in Qatar are highlighting the importance of breast cancer awareness, education and research.
Here is my list of events not to be missed!
FREE Screening
Dive Lounge Spa
FREE Mammography screening and talks at The Gate Mall from 9 am – 9 pm.
Kindly RSVP for the event 44077117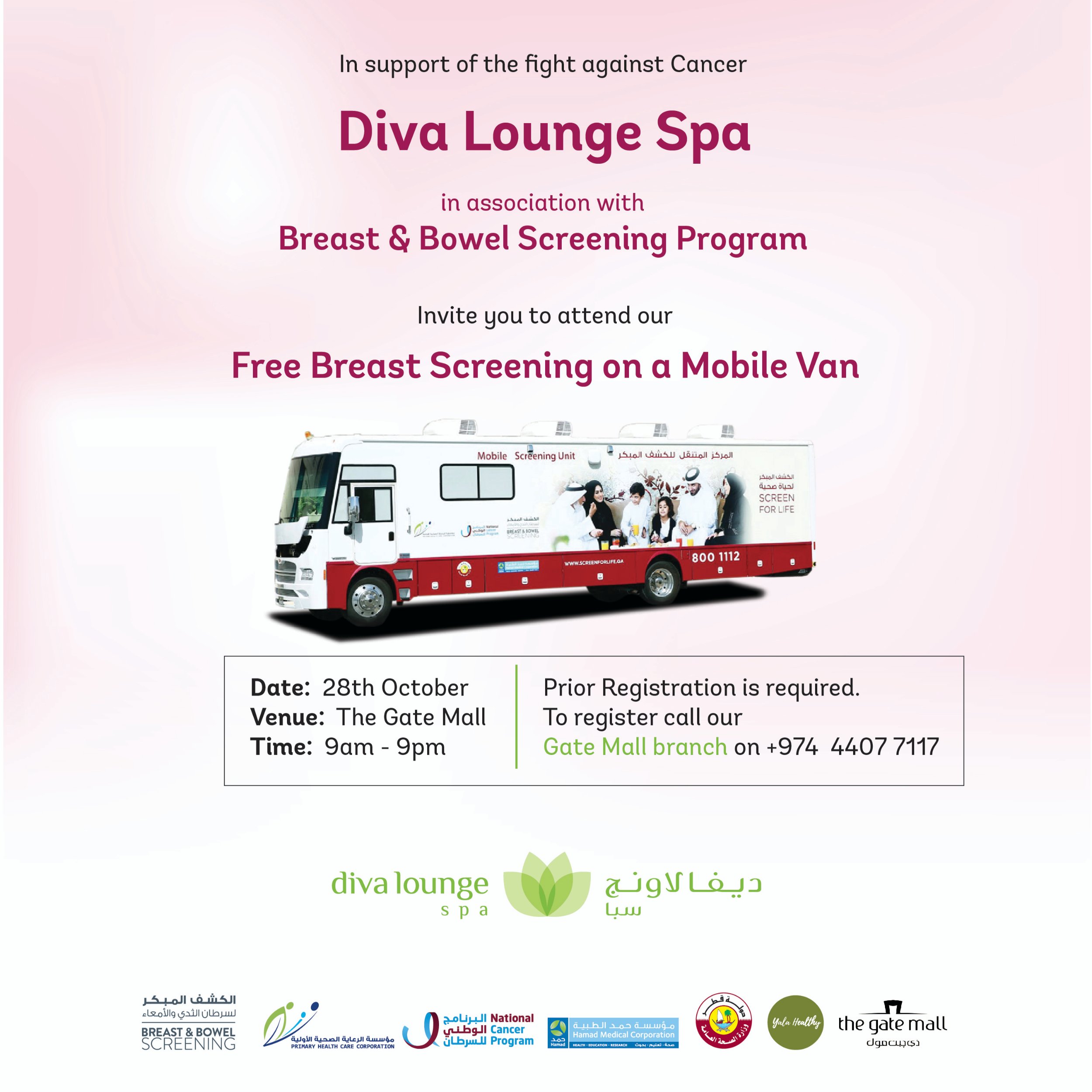 Mirqab Mall
Free screenings and mammograms for women from October 18th to October 20th free of charge.
To register, visit them starting at 4 pm on the 18th, 19th and 20th at the Carrefour entrance and register on the day.
The Qatar Cancer Society will have registrations and events, including speaking to survivors and educators from the 18th – 20th from 4pm to 8pm.
Their bus will be stationed at Mirqab Mall on Friday the 19th and Saturday the 20th from 3pm – 9pm.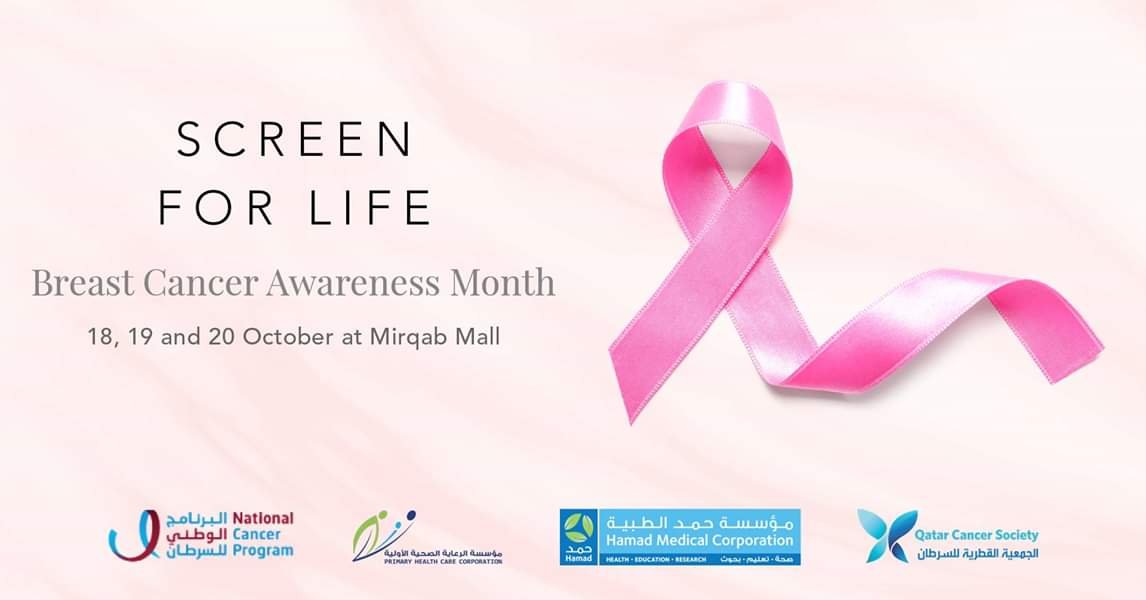 InterContinental Doha The City
InterContinental® Doha The City in partnership with The National Breast and Bowel Cancer Screening Program "Screen For Life" led by The Primary Health Care Corporation (PHCC).
FREE screenings:
8th and 30th of October.
Times:
8th from 11:30am – 16:30pm.
30th from 8:00am – 17:00pm.
FREE consultation:
8th October
Times:
8th from 8:00am – 11:00am.
Call 4015 8753 for more information.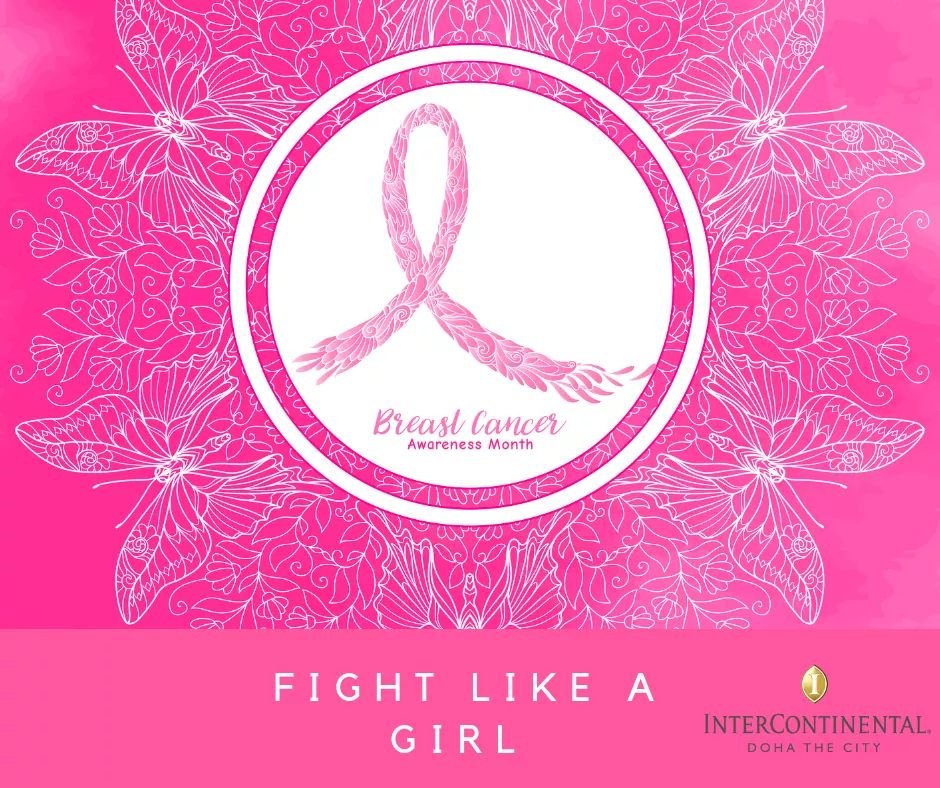 Evolve Think Pink Afternoon Tea
Breast Cancer Awareness Tea
Saturday 27th October from 2:00PM – 5:00PM
Event Venue: Airada Spa
Tower30, Porto Arabia, The Pearl
For bookings call: 66113472
or email: info@evolvemindbodysoul.com
Ticket Price:Qar 150
50% of the ticket price will be donated to the breast cancer awareness fund.
In cooperation with Qatar Cancer Society
@qcs_qatar
Food Sponsor: White Oryx Thai Restaurant
@whiteoryxthai .
Please note that this is a LADIES ONLY EVENT.
Each participant will go home with a tshirt, cap and ribbon.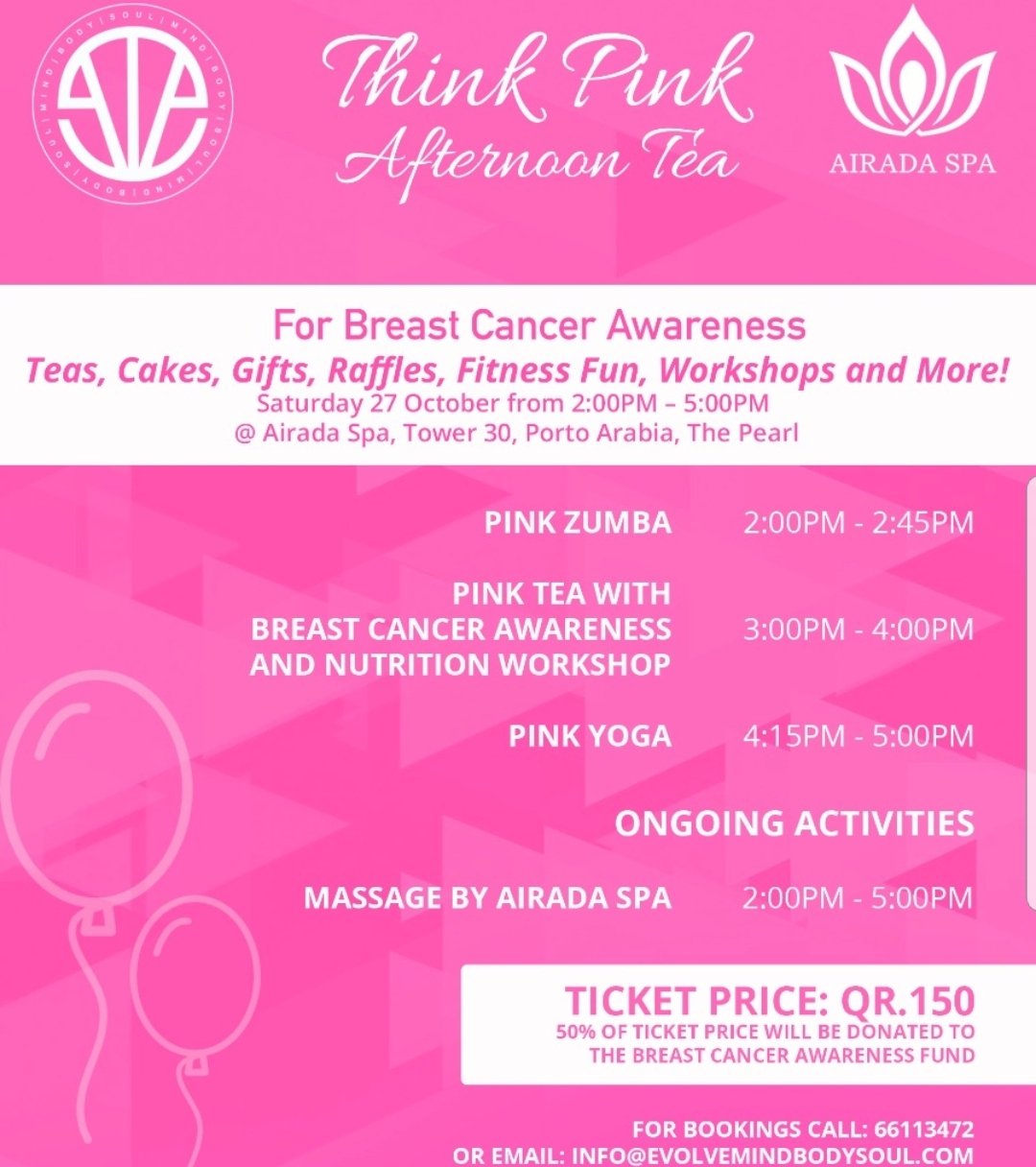 Dine at the InterContinental Doha The City
The Square – Indulge in an exclusive pink themed Arabic lunch on the 20th of October.
Lobby Lounge – Enjoy a selection of pink delights and cakes that will be sold throughout the month.
Please call +974 4015 8888 for further information.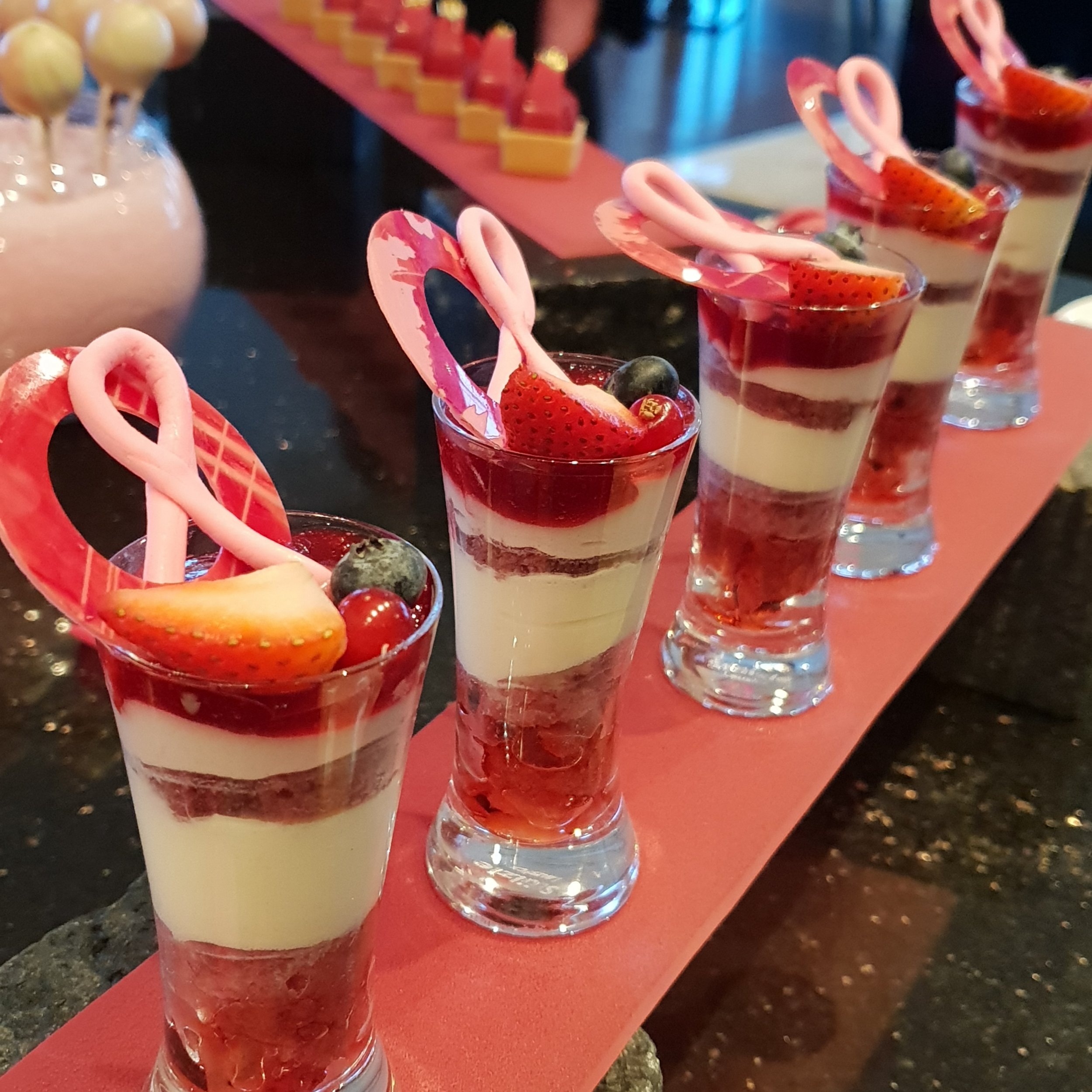 Fraser Suites West Bay
The Pink menu
A special menu has been curated with items all month supporting the cause including items such as pink risotto, pink velvet pancakes, rose saffron milk cake, strawberry and raspberry macaroons, rose latte and raspberry mojito. The sale proceeds from this menu will be going to Qatar Cancer Society.
Helipad yoga for a Cause
During October, helipad yoga classes are every Saturday from 4.30-5.30pm for QAR 40 pp. All proceeds will be given to Qatar Cancer Society.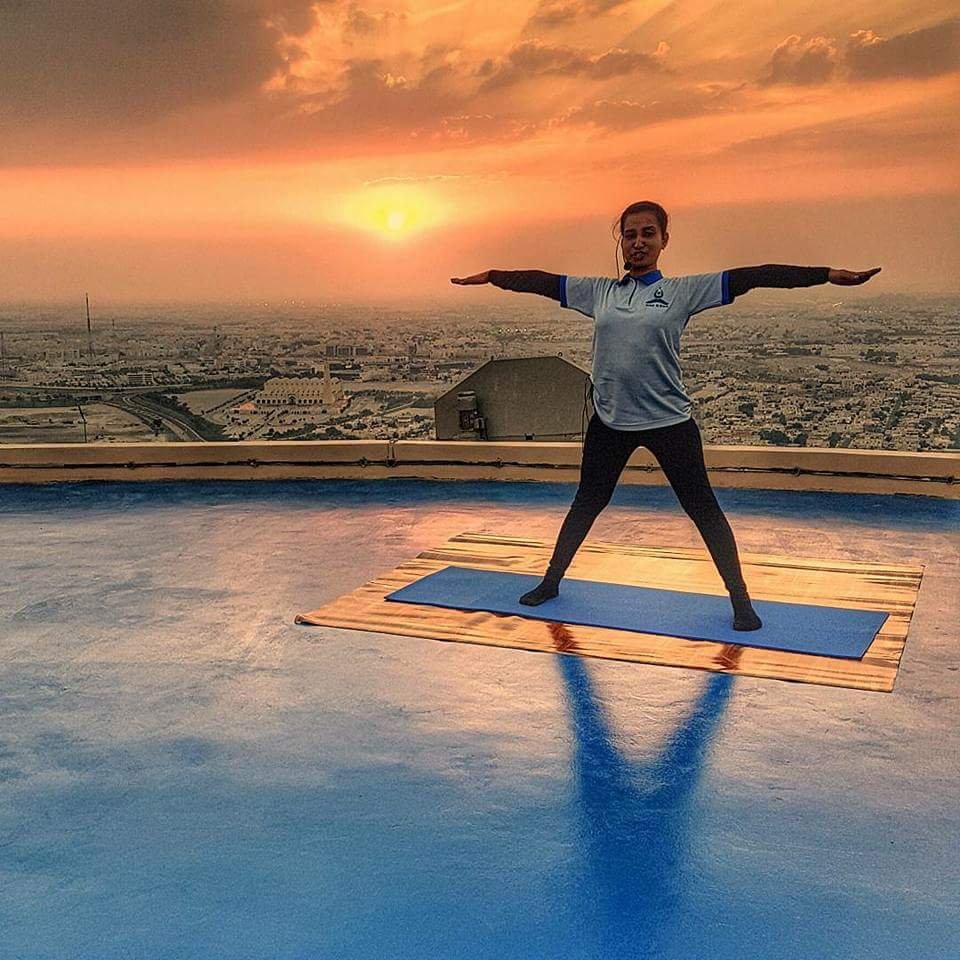 FREE ART CLASS
Join Fraser Suites West Bay and Amber Rauf for a FREE canvas painting workshop. Learn about Contemporary painting styles and colour physcology.
This event is organized by Fraser Suites West Bay to support "Pink October" Breast Cancer Awareness month. The Theme of the event is POWER OF PINK!
27th October, 2018 from 2-5pm.
For more information on Fraser Suites WestBay go to https://newindoha.com/hotel-review-fraser-suites-west-bay/
For inquiries & bookings call +974 4495 5000 .
Aspire Active
Over 500 danced against breast cancer last year, now Pink Active is back for Season 2! Be part of something bigger & join the fight against breast cancer on 27th Oct, 5pm! FREE entrance for all ladies in Doha for our Zumba event. Call 44136430 & register to RESERVE your slot! https://aspireactiveqa.com/zumba/
Location: https://tinyurl.com/y88gkc8r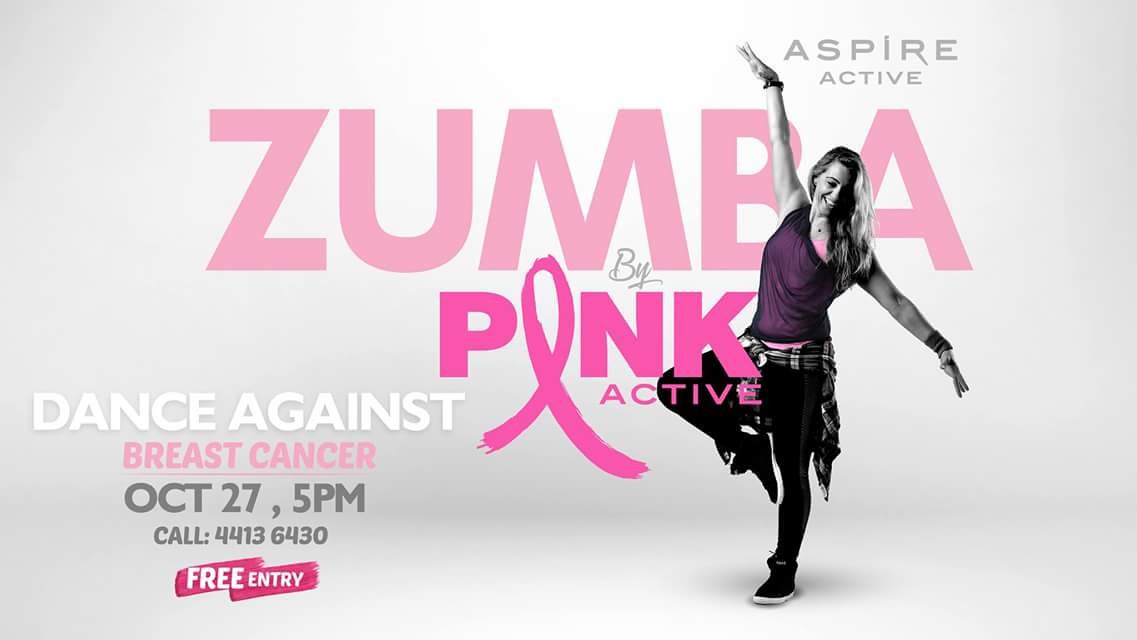 #InspireMeThinkPink
An exciting event with @qcs_qatar @lacantineqatar @clinicaviventum @_ffhq_
Qatar's well known Cancer Activist Margarita Zuniga @mtfr_qtr
followed by an auction with Mala Waseem.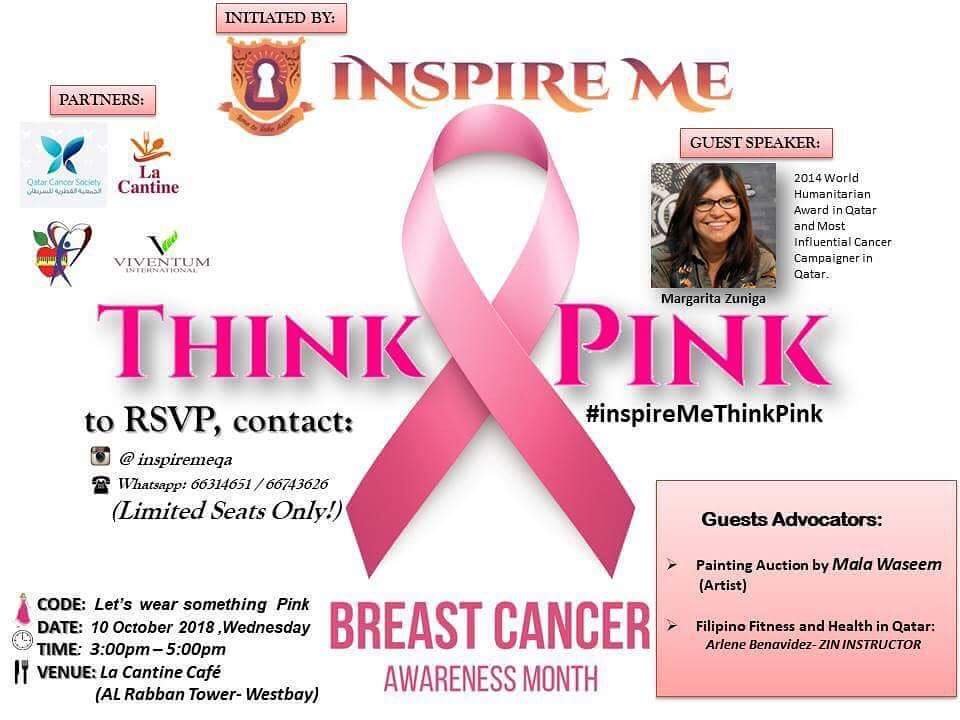 Banana Island Resort
PINK Brunch at Azraq Restaurant
Visit Azraq every Friday in October for a sumptuous brunch for a good cause. The proceeds will be donated to QCS to support cancer patients in the country. Fridays from 1pm to 4pm at Azraq. Price: Resident guests – QAR 250 per adult and QAR 125 per child. Non-resident guests – QAR 300 per adult and QAR 150 per child. For reservations, please call: +974 4040 5050 or email: fbreservations.adoh@anantara.com
PINK SPA & WELLNESS MENU – EXCLUSIVE FOR OCTOBER
Join Anantara Spa for a range of special treatments. Book any of the PINK Spa and Wellness offerings, including restorative lymphatic massage and anti-aging therapies, and get a free15-minute upper body treatment. Available from 1 – 31 October.
Call: +974 4040 5158 or email spa.adoh@anantara.com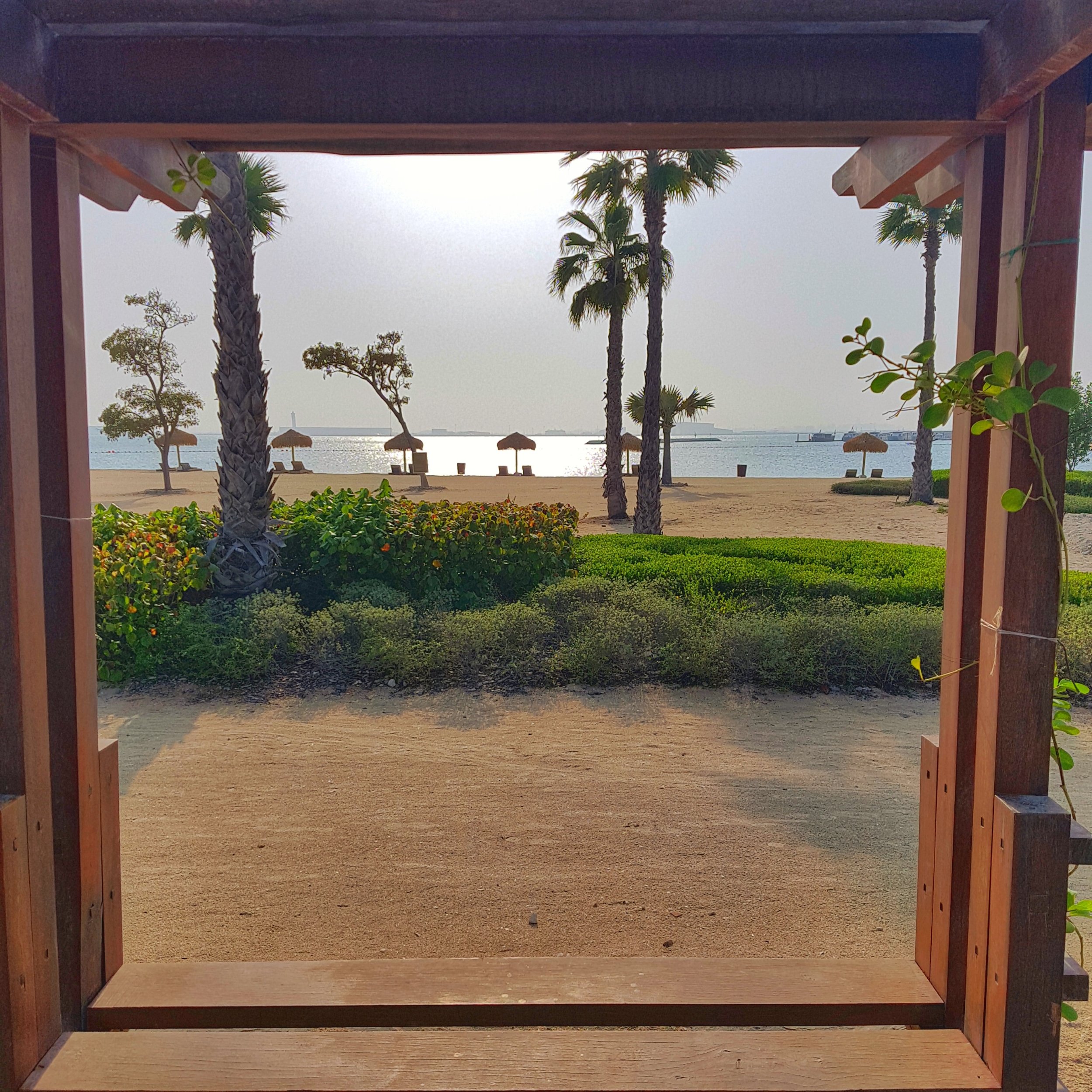 Ghoson Spa
Ghoson Spa has an exciting line up throughout the month.
For more information contact them on
4444 1991 or reservations@ghoson.com
Westin
Sunshine sessions every Saturday and support Qatar Cancer Society (QCS).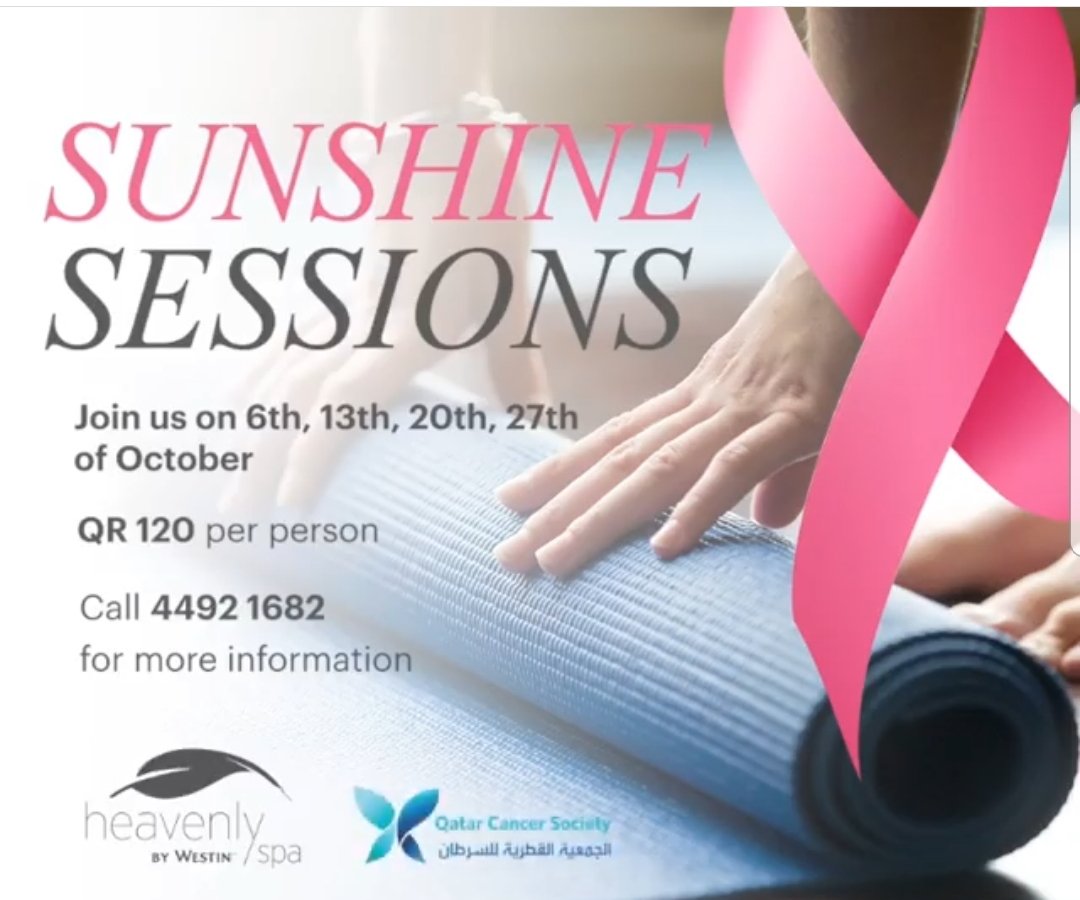 Four Seasons Doha
Pink Afternoon Tea at Seasons Tea Lounge for Breast Cancer awareness.
Price QAR 215 per set inclusive of one hot or cold beverage. 5% of the profit goes to the Qatar Cancer Society.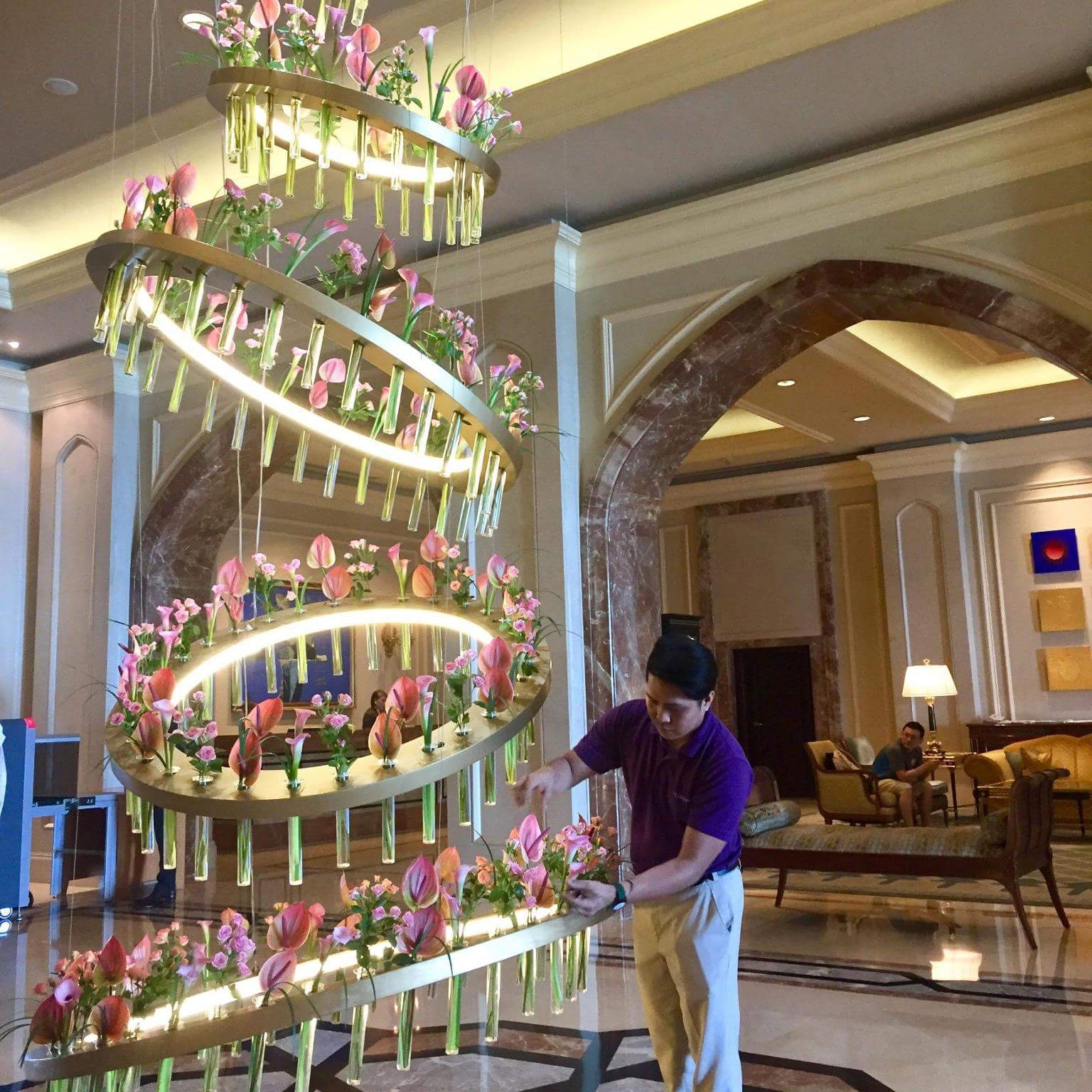 TLG Qatar
On the 9th of October at 9.30am Dr Gianfranco Pittari will be talking about New Development in Cancer Reasearch. He currently serves as Senior Consultant of Hematology/ BMT at HMC's National Center for Cancer Care & Research in Qatar. Please wear something PINK!
For further details of the meeting take a look at www.tlgdoha.com
Marriott Marquis City Centre Doha
Raise funds and create awareness about Breast Cancer. Purchase pink pasta, pastries and beverages, 10% of the revenue of the signature items will go to the Qatar Cancer Society.
1 – 31 October 2018 | Daily | 6am to 7pm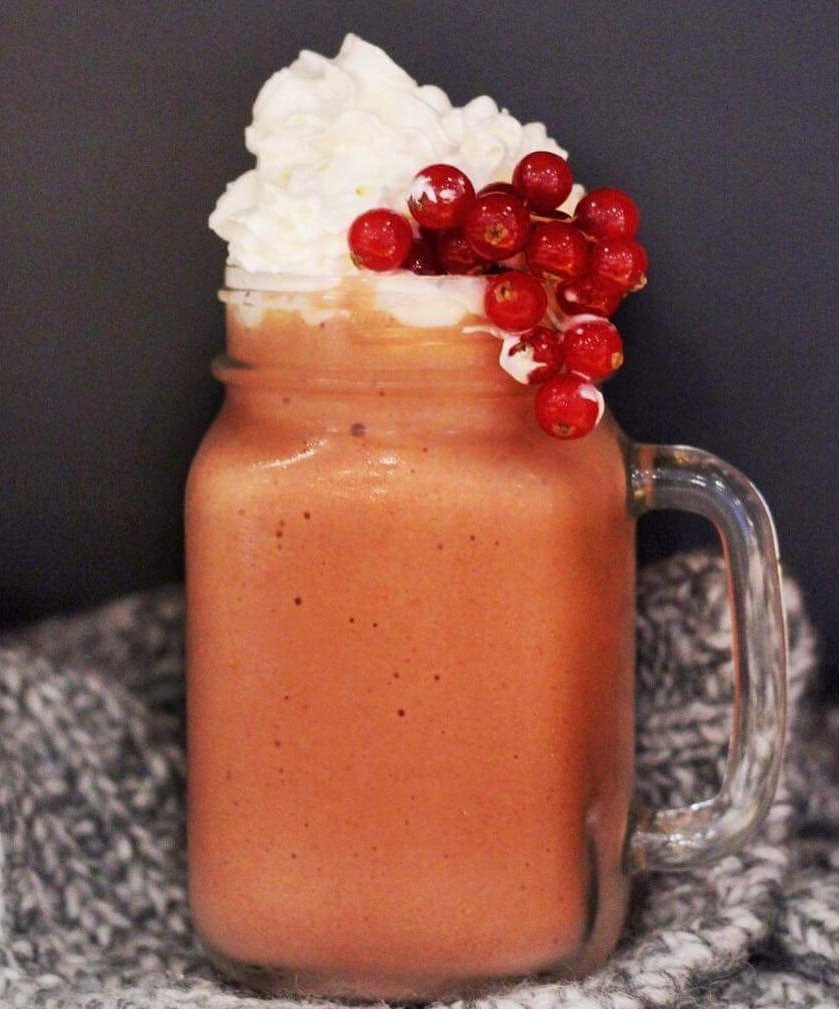 PINK AFTERNOON TEA
Raise funds for the Qatar Cancer Society and enjoy a specially crafted Pink Afternoon Tea at West End Café
1 – 31 October 2018 | Daily | 7am – 7pm
Contact details for more information: Call +974 4419 5000
Crowne Plaza Doha West Bay
With Qatar Cancer society a Breast Cancer Awareness Seminar was held for the hotel's staff on Wednesday, 3rd of October. All attendees were offered a free mammogram.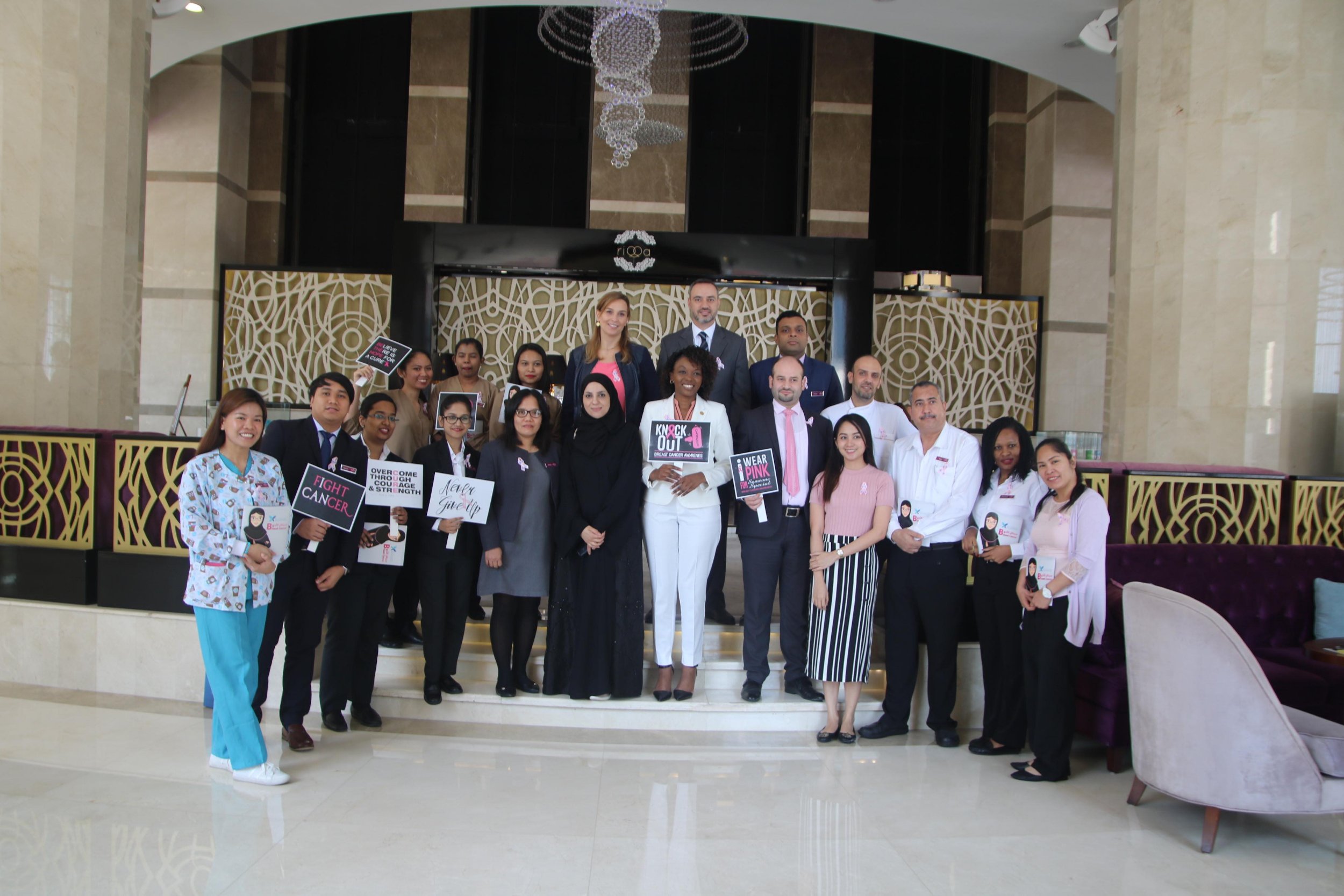 ACORN NURSERY Al Khor
Enjoy a Pink Coffee Morning on Saturday 27th October. All profits go to Qatar Cancer Society.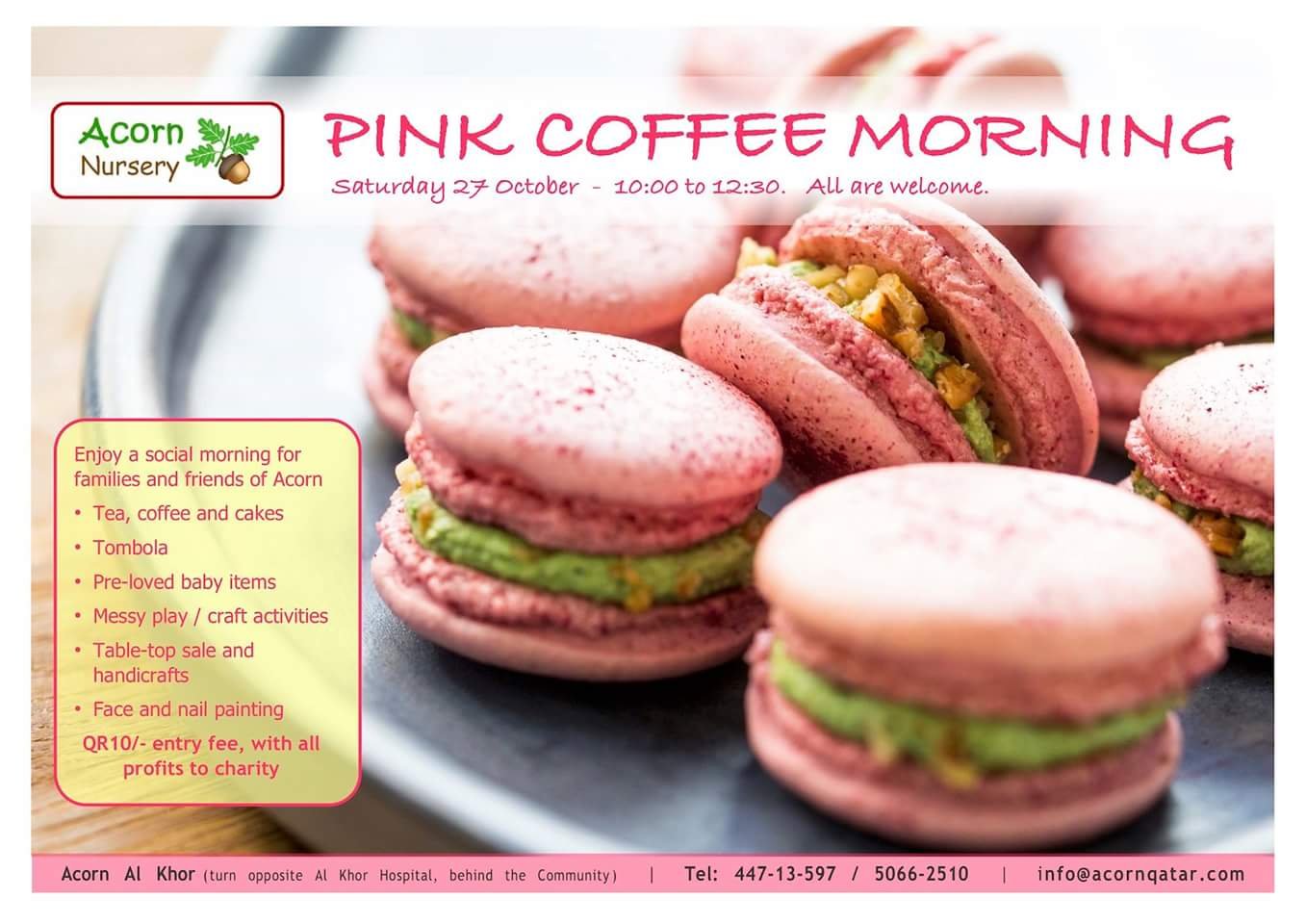 Screen for Life Qatar
The Breast and Bowel Screening Program is a life-saving, population-based initiative that aims to promote education, awareness and early detection of breast and bowel cancer in Qatar. Titled 'Screen for Life', it is being conducted under Qatar's National Cancer Program.
To book the mobile unit please call 800 11 12 or send an email to info@screenforlife.qa
Gulf Mall
Visit them on the 4th and 5th of October in Gulf Mall in front of Centerpoint where you can register to get a mammogram appointment. Breast cancer screening is for ladies aged between 45-69.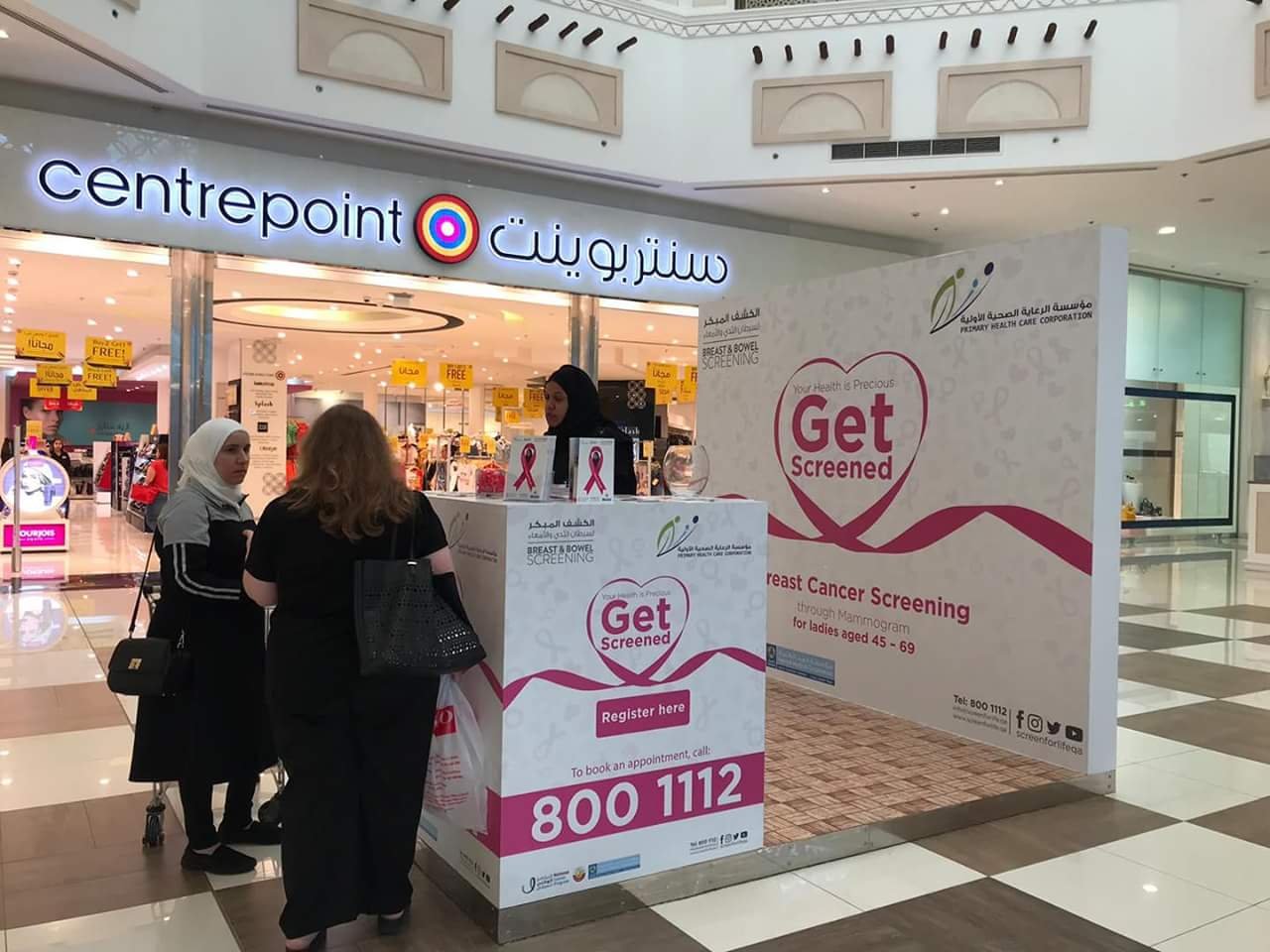 To Book a FREE screening appointment, please call the call center on 8001112
Breast Cancer Screening is for ladies aged 45-69. Bowel Cancer Screening is for Men and Women aged 50-74.
Hamad Medical Corporation (HMC)
HMC has launched an "Early detection saves lives" campaign to raise awareness of breast cancer and encourage women to get to know their breasts.
What can you do this October.
During Breast Cancer Awareness Month get yourself checked, share information to raise awareness and donate.
Read more about Breast Cancer Screening in Qatar:
http://www.marhaba.qa/breast-cancer-screening/
Finding out about breast cancer signs and symptoms can help you understand what breast changes to look out for.
Get your free Know the Symptoms guide
http://resources.nationalbreastcancer.org/know-the-symptoms/
Restaurants supporting the cause:
@cueqatar
All proceeds from the Rose Milk will be given to Qatar Cancer Society.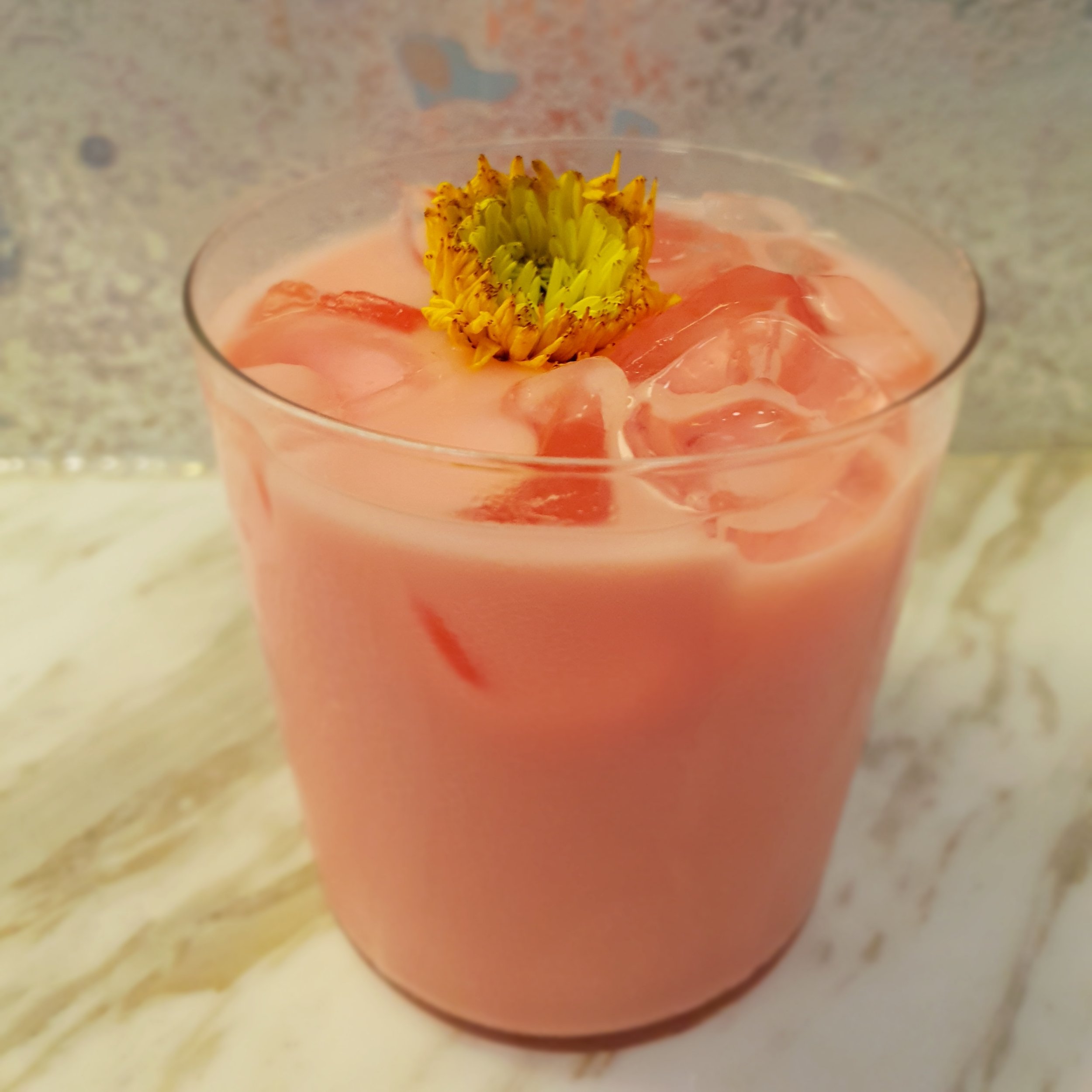 @Nandos Qatar
Order #drinkpink Rosa Margarita and Nandos will donate towards the fund to support the Qatar Cancer Society's initiative.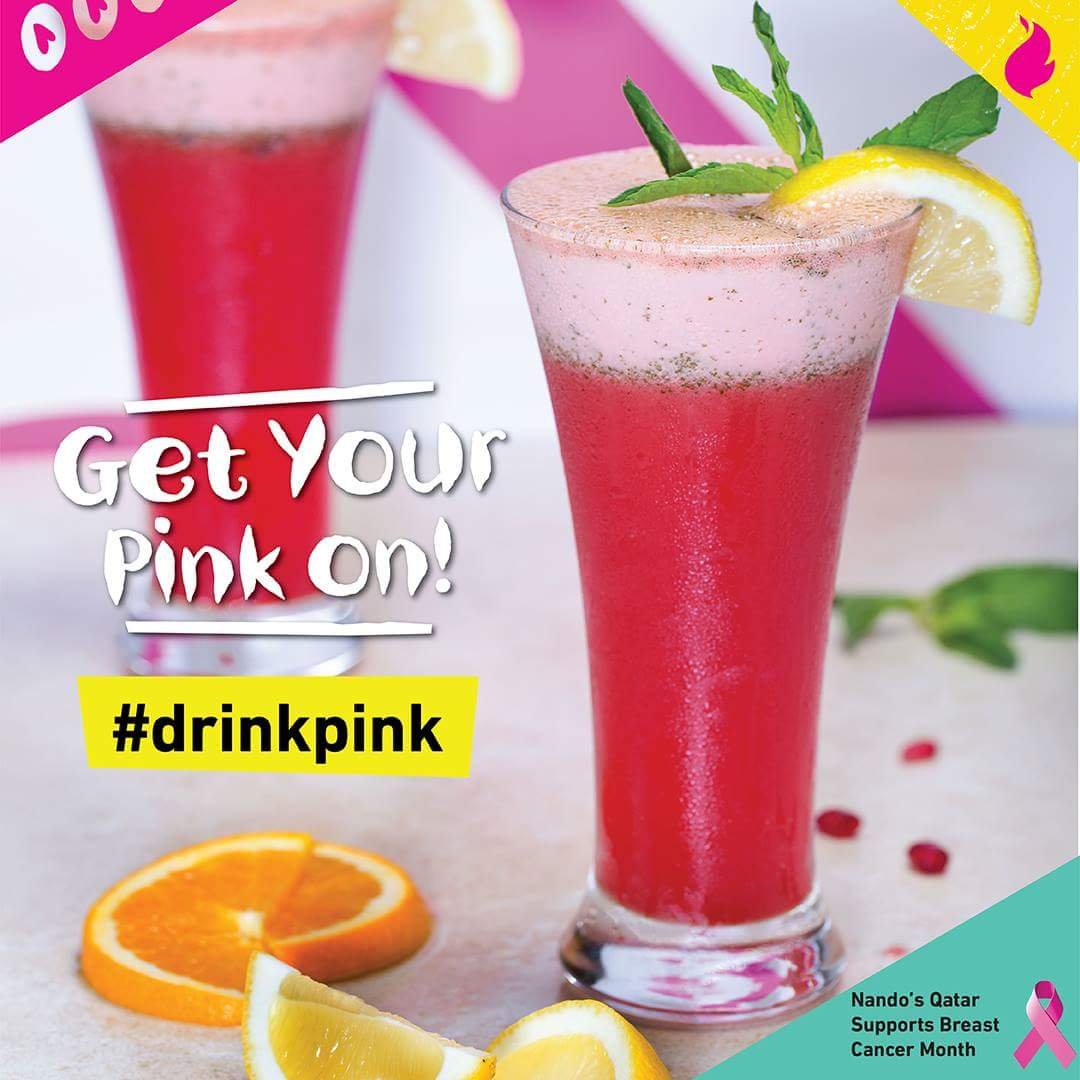 @c53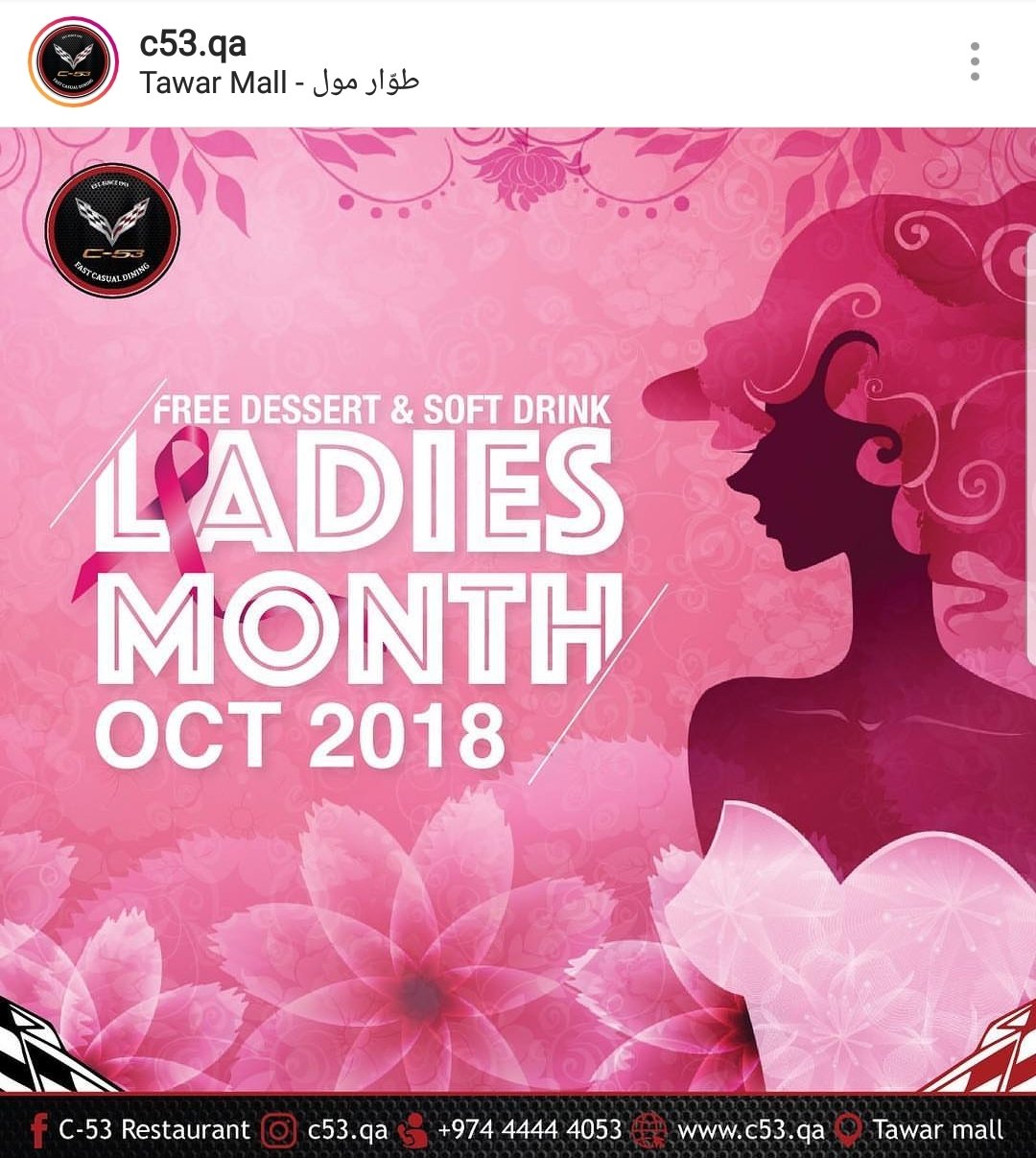 Social media accounts to follow this month:
@screenforlifeqa
@qcs_qatar
@HMC_Qatar
@phccqatar
Have you heard of an amazing initiative this October?
Please share the event with us!
This article will be regularly updated as events become available.
This October, let's all wear pink to fight breast cancer.
For more information follow me on my social media platforms
@New In Doha
I make every effort to ensure the accuracy of the above information. However, I would recommend that you always call ahead and confirm the details as they are subject to change.
#NotSponsored