Sealine Beach in Mesaieed has undergone a massive renovation and is now a great spot for families to visit and relax on weekends. Beaches (Public, private and a family beach), a small pier, food stalls on the beach, deck chairs and a kids play area are a few of the highlights of the Al Enna project.
Camping Options at Sealine
The weather is perfect to enjoy an overnight camping experience and we decided on a weekend away with a large group of friends. Presently visitors have a choice between Regency Sealine camp and the Sarab Camp if they would like to enjoy an overnight camping experience. Whilst Regency is located closer to Inland Sea, is on the beach and has bathrooms attached to the tent we were unable to get a reservation so we visited the new Sarab Camp.
Sarab Camp
Sarab Camp is a traditional Arabian camping village with modern amenities such as fully air-conditioned tents. We loved that they offered clusters so that large groups have their own area. Each cluster consists of 6 tents (2 large and 4 standard tents), 6 semi-permanent toilets and showers, a pantry with only a sink (No fridge) and a large majlis. The airconditioned majlises are great for a large group and I was happy to be camping but still have a flushable, clean, portable outdoor toilet and a cool majlis available.
Sarab Camp has 16 clusters, each consisting of six tents and a majlis. The spacious and air-conditioned majlis in every cluster are equipped with a TV. Sarab camp can accommodate up to 400 guests in full capacity and is available for day use, weekly and monthly rentals and private events.
There are four cluster categories available: Standard, Preferred, Deluxe and Superior. The roads to the camps are excellent and can be accessed by all types of vehicles.
New In Doha Tips:
There is No free Wifi available.
Free public parking is possible on site (reservation is not needed).
Pets are not allowed.
A kettle can be requested.
A cooler box with ice can be requested for your majlis as there is no fridge.
Bbq stands and charcoal can be ordered at Qar 150 a stand.
Quad bikes are available for hire.
Tea, coffee and sugar is complimentary for guests.
If there is no one in the camp, an early check in and check out can be arranged.
Carry Games.
Communal Dining Area
Other Activities:
Quad bikes for kids and adults (Extra charge)
Foosball
Table tennis
Billiards
Kids outdoor play area
Rates
Sarab Camp is managed by Torch Hospitality (the same group who is managing the Torch Doha Hotel)
Weekend rate/overnight: QR 500/good for 2 with breakfast (Day Rate/Tent only on weekend QR250-QR350 from 7am to 6pm)
Discount:
Qatar Petroleum employees get a 5% discount while Qatar Foundation employees get a 10% discount.
General information
Check-in : 15:00 – 22:00
Check-out : 12:00
Room service is available and a very basic buffet breakfast is available each morning till 10.30am.
Sarab Camp
My impression of Sarab Camp
As we were a very large group and had all 6 tents and the majlis to ourselves we had a blast. I would highly recommend it if going in a large group. If I went alone with my husband I think we would have been bored due to the limited number of activities for individuals. The rooms were simple, clean, carpeted (Picture Ikea everything) but very comfortable. Even though you left the tent to go to the outdoor bathroom, it was a clean, simple bathroom with hot water. I do recommend taking your own shower gels, shampoo and towels. Soap, toilet paper and tissues are provided. One towel was given per tent. There is NO Beachfront at the actual camp site. I loved that the food stalls were across the road and open till the early hours of the morning. I would recommend not taking any food and buying what you need fresh.
Sarab Camp staff were pleasant and helpful and the place was very clean. I would definitely go again with friends for a weekend break!
The Beach
We used the Al Enna beach across the road. The beaches are on the main tar road and can be accessed easily by all vehicles.
I have been told, that Sarab's own private beach, located across the main Sealine road, opposite the camp, has been now opened with organized facilities (umbrellas, sun lounge chairs). Beach volleyball and mini football are available on site for entertainment for the whole family in a private and protected environment.
A food kiosk will be placed on site soon with food and beverage options for the guests, as well as water sports and water activities are expected to be added within the month.
We visited the Al Enna paid beach which is across the busy main road from the camp, open from 8am to 8pm daily at Qar 30 pp.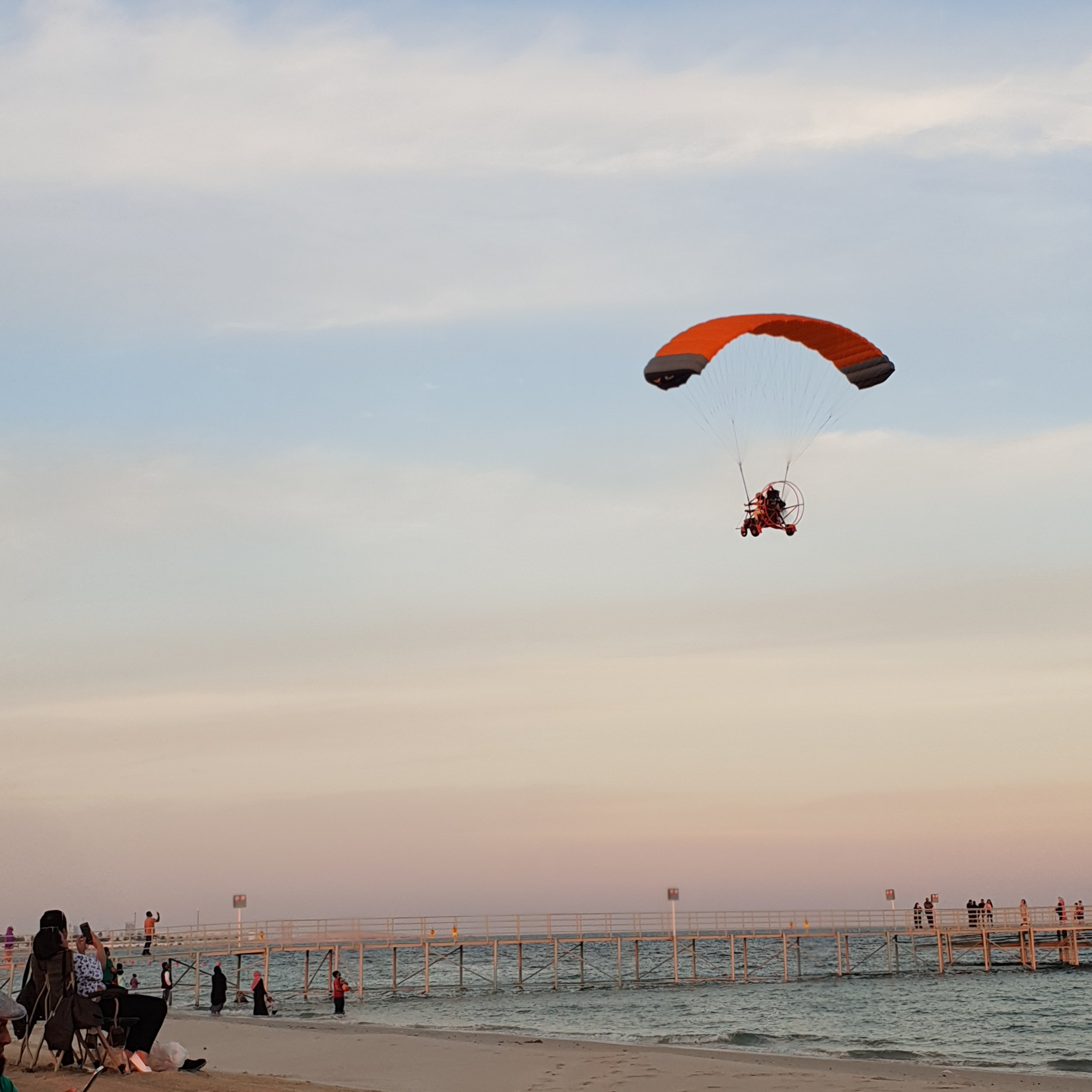 Contact
Website: http://www.thetorchdoha.com.qa/sarab-camp-en.html
+974 4446 5600
Reservation@thetorchdoha.com
info@thetorchdoha.com
LOCATION:
Opposite Sealine Beach
Sarab Camp – Sealine Beach Road – MESAIEED
GPS coordinates : 24.904720 (24°54'16.99″ N) / 51.536540 (51°32'11.54″ E)
Disclaimer: This review was not sponsored and I was a full paying guest of the camp.